Chiropody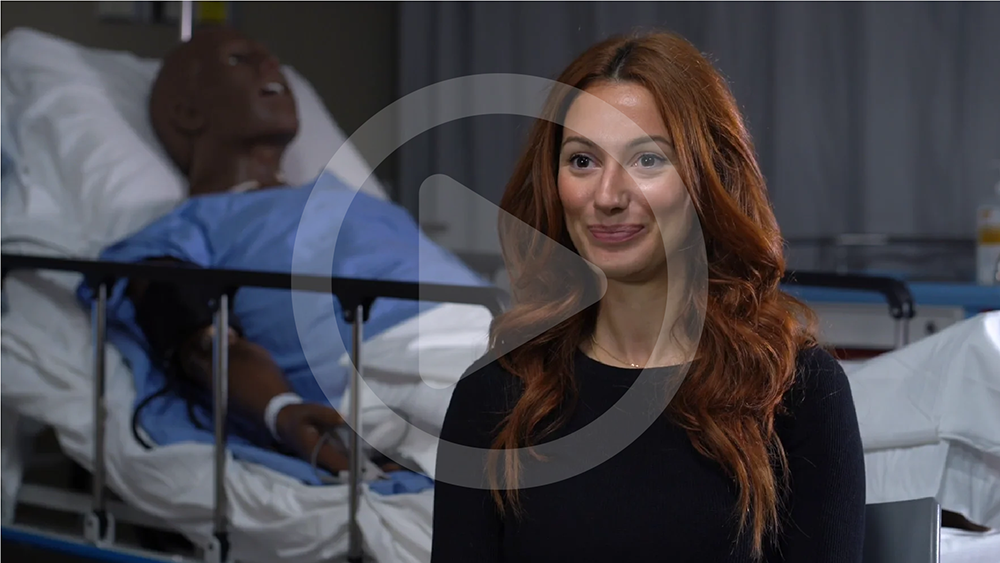 Program at a glance:
Credential(s) Earned
Advanced Diploma
Program Length
7 semesters over 3 years
Delivery Method
Full time
Start Date
September 2021
Tuition
Application Deadline
February 1, 2021
Program Code
MICH CH111
Career Opportunities
Chiropodists work in a wide array of settings, including but not limited to:
Private Practice
Multidisciplinary Health Clinics
Community Health Centers
Hospitals
Family Health Teams
Long Term Care Facilities
Healthcare Industry
Take a

Chiropody Virtual Tour
The Michener Institute at UHN provides the only Chiropody program in Canada. The Chiropody program is three-years in duration, including both didactic learning and clinical practice. There is an on-site Chiropody Clinic, which provides students with the opportunity to treat patients under the supervision of licensed Chiropodists within the faculty.
To work as a Chiropodist in Ontario, you must be registered with the College of Chiropodist of Ontario. Graduates from this program are eligible to write the College's provincial registration exam.
Consider Chiropody if you:
Enjoy a dynamic work environment, patients treated by Chiropodists range from the very young to the elderly who present with a wide variety of conditions.
Have strong interpersonal communication skills and enjoy teamwork, as an integral member of a health care team.
Have the entrepreneurial spirit to potentially open your own clinic.
Chiropody is a regulated healthcare profession that focuses on the assessment and management of the foot and foot related conditions.  Treatment is achieved through a medical, surgical or palliative approach.
A Chiropodist is a primary health care professional who specializes in the assessment, management and prevention of dysfunctions, disorders and diseases of the foot.  Chiropodists are an integral part of the multidisciplinary health care team, and are skilled in the management of acute and chronic conditions affecting the foot. These conditions include, but are not limited to diabetic foot care, sports and traumatic injuries, biomechanical assessments and orthotic therapy, pediatric foot conditions and wound care. A referral is not required to consult with a chiropodist who works   a private practice. Chiropodists often work closely with other medical professionals as part of the health care team.
The role of the Chiropodist is to maintain and improve patient mobility, to alleviate foot pain and provide evidence based foot health education, thereby improving one's quality of life.   The Chiropodist provides care to a diverse range of patients with services including but not limited to:
Diabetic Foot Care
Sport Injuries
Pediatrics
Geriatrics
Rheumatology
Biomechanical Assessment and Gait Analysis
Podiatric Soft Tissue Surgery
Wound Care
Effective practice requires a high degree of manual dexterity, diagnostic skills, computer skills, a caring and professional attitude and effective communication skills. A career in podiatric medicine is both varied and challenging.
The Advanced Diploma of Health Sciences (Chiropody) is a three-year, 7 semester, full time program. There is one intake each year, in September. The first and third year of the program run from September to April, while the second year of the program includes a Summer semester.
Graduates from Michener's Chiropody program earn an Advanced Diploma.
Start Date
September 2021
Applicants to the Chiropody program must possess specific qualifications in order to be eligible for admissions. Please visit our Admissions Requirements by Program page for details.
See Admissions Requirements
The fee policy for Canadian students can found on the Canadian Tuition Fees web page.
Please note this program is currently not open to international applicants.
Tuition fees are based on the entire duration of the program of study. For your convenience, these fees have been broken down into three equal payments that can be made annually. Also, each annual fee can be split into two payments which will be due in the summer and late fall of each academic year.
* An additional equipment fee is required.
Detailed anatomy of the musculoskeletal system of the lower limb, including dissection in a cadaver lab
Pathophysiology of systematic diseases with lower limb complications
Theoretical and clinical pharmacology
Biomechanics of the lower limb, gait and orthotic therapy
Podiatric soft tissue surgery including nail procedures, suturing and plastic surgery techniques
Podiatric anesthesia and injection techniques
For detailed course descriptions, please visit the Chiropody Curriculum Page.
*As of January 2021, a new competency profile will come into effect from the College of Chiropodists.
Courses:

YEAR 1: Semester 1 – Fall
APCH112-Structure and Function of the Lower Limb
APCH110-Lower Extremity Anatomy Dissection
PGCH110-Pathophysiology I
POCH111-Podiatric Medicine I
DMCH121-Dermatology
FPCH111-Foundations of Podiatric Professional Practice
Semester 2 – Winter
BMCH121-Podiatric Biomechanics I
PGCH121-Pathophysiology II
PMCH121-Clinical Pharmacology
POCH122-Podiatric Medicine II
CLCH121-Podiatric Clinical Practice I
YEAR 2: Semester 3 – Fall
IGCH230-Laboratory Diagnosis and Imaging
BMCH230-Podiatric Biomechanics II
LACH230-Podiatric Anesthesia and Injections
POCH230-Podiatric Medicine III
CLCH231-Podiatric Clinical Practice II
Semester 4 – Winter
POCH240-Management of the High Risk Foot
PECH240-Podopediatrics
SMCH240-Podiatric Sports Medicine
TSCH240-Podiatric Soft Tissue Surgery
CLCH241-Podiatric Clinical Practice III
Semester 5 – Summer
EBCH253-Evidence Based Practice
CLCH251-Podiatric Clinical Practice IV
RMCH360-Research Project
YEAR 3: Semester 6 – Fall
CLCH361-Podiatric Clinical Placements (Clinical Practice V)
Semester 7 – Winter
CLCH372-Podiatric Clinical Externships
LPCH360-Legislation and Practice Management
Length:           30 weeks
Start:               September
End:                 April
You will be assigned to clinical placement site(s) through Michener's Office for Clinical Education. This process begins with an information session in the first semester of your program.
During the first two years of the Chiropody program, you will have opportunities to gain hands-on clinical experience with patients in Michener's Chiropody Clinic on campus.  In the third year of the program, you will be placed in one of the program's affiliated clinical sites, including teaching and community hospitals, community health centres or private clinics located in Ontario. During this time you will work under the close supervision of Chiropodists to integrate knowledge and skills into practice. Clinical placements also provide you the opportunity to network with potential employers.
You may be placed in more than one clinical site during your clinical placement period, based on the required clinical competencies for your program and the range of services at the clinical sites.
Clinical partner sites are subject to change, therefore, specific geographic regions may not be available at the time of your placement; other regions may be added. Please note that when you accept a seat in the program, you also accept to go to any of the program's affiliated clinical sites available at the time of your placement. In addition, you agree to comply with the following mandatory requirements which must be completed prior to the start of your clinical placement: 
First Aid and CPR Certification for Health Care Providers
N95 Mask Fit Testing
Updated Vulnerable Persons Check (also required upon admission)
Updated TB Test (also required upon admission)
Up to date vaccinations
Michener highly recommends all students be vaccinated with influenza vaccine.  This vaccine may be mandatory at some clinical sites.  Students must follow clinical site protocol.
Testimonials
Through the Chiropody program, I became aware of the number of people in the community suffering from foot and lower limb conditions. It's very rewarding to know that chiropodists can provide relief to patients with just one visit. My educational experience at Michener was enhanced by the clinical internships in my last year, as well as the different faculty in the program. I learned a lot in the externships, as I picked up on certain skills and techniques and was able to see how different clinics operate.