Chiropody Clinic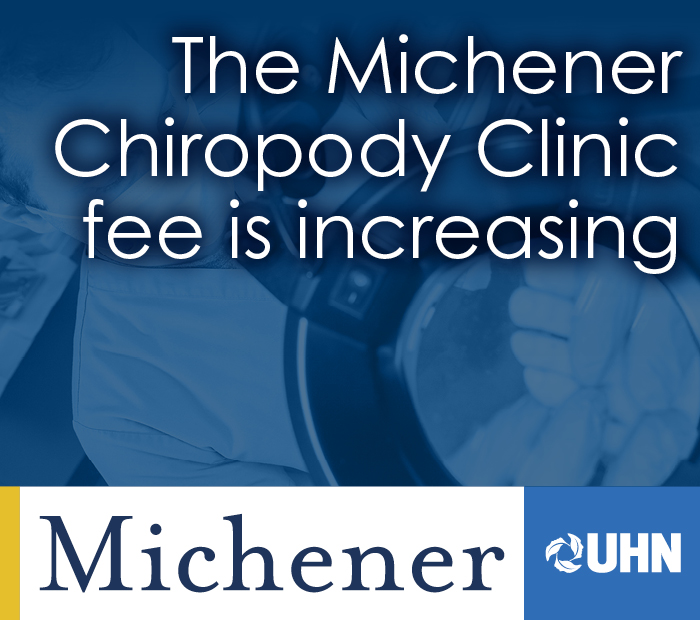 Please note that due to increasing costs clinic fees will now be $20 per visit. This will be in place as of September 1st 2022.
We continue to be committed to providing safe and quality foot care at a low cost.
If you have any questions or concerns, feel free to contact ChiropodyClinic@michener.ca.
Attention Patients and Health Care Practitioners
The College of Chiropodists wishes to confirm that there is no change to the provision of health care in Ontario as a result of the Premier's announcement on January 12, 2021. This situation highlights the importance of the continuance of the ongoing care that we provide to our patients to do our part as members of the healthcare system, so as to prevent overwhelming the already stressed hospital and ER settings as a consequence of COVID-19.
---
The Michener Chiropody Student Teaching Clinic is open and seeing patients. Due to the Covid-19 pandemic, the Clinic is operating at reduced capacity with strict health protocols in place.
PLEASE NOTE: We are actively screening patients at booking, during reminder calls and upon main desk check-in. We require a face covering to be worn while on-site anywhere in the building. Please DO NOT walk in to make appointments, contact us via phone (416-596-3108) and we will be happy to assist you.
For further information, please access the following links:
The Michener Institute is operating with restricted access as we follow public health and government guidelines with minimal staff while practicing social distancing.
Please leave a voicemail and our staff will connect with you in a timely manner. Our phone number is 416-596-3108.
Keep Monitoring this webpage for updates.
Stay well.
Located on the third floor of The Michener Institute, the Michener Chiropody Clinic supports the Michener Chiropody program and offers foot care to the public.
The Michener Chiropody Clinic offers hands-on training to Chiropody students and care to regional clients in a clinical setting under the supervision of faculty who are also certified chiropodists.
Chiropodists are primary healthcare providers who treat people of all ages and activity levels. A referral or previous diagnosis is not required to visit a Chiropodist. We offer general and preventative foot care for a wide range of foot conditions. We treat at all the levels of the foot, from surface skin infections to bone and joint pain. Your first visit will include a full history and foot exam which will allow us to develop a comprehensive management plan to meet your foot care needs.
For more information or to book a treatment, contact the clinic at 416-596-3108.
What to Expect During Your Initial Visit
This clinic is a teaching facility. We are committed to providing our patients with high quality foot care, utilizing the most recent techniques and advances available. Your care will be performed by students in The Michener Institute's Chiropody program. Students treat under the supervision and guidance of licensed Chiropodists who are also clinical faculty.There may be more than one student involved in your care during each appointment. We ask for your cooperation with this to ensure students get quality instruction and hands-on experience at this teaching clinic. You may not see the same student or clinical faculty during each visit, but continuation of care is ensured through detail clinical recording and patient response to previous treatment. Please bring a list of prescribed/non-prescribed medications, your regular shoes and all laboratory and/or imaging reports that are relevant to your foot ailments.
Hours of Operation
The Michener Chiropody Student Teaching Clinic hours fluctuate and are dependent upon academic semesters. For up to date Hours of Operation and important notifications, contact the clinic at 416-596-3108.
Routine visits are $20. Our services are not covered under OHIP.  There may be additional fees for other services should you require them. These services and fees will be discussed with you beforehand by the student intern and Chiropodist. Chiropody services may be covered by your third party insurance, check with your plan administrator for more details.
Everyone is welcome. 
What can a Chiropodist do for me?
Chiropodists are trained to treat a variety of different foot problems. These problems include the following:
Thickened toenails
Ingrown toenails
Fungal nail or skin conditions
Foot, ankle, knee, hip or back pain
Corns and calluses
Plantar warts
Diabetic wound care
Arthritic foot care
Bunions and other toe deformities
Dry and cracked skin
Congenital foot deformities
Neuromas and peripheral neuropathies
Sports injury and repetitive strain injuries
What might my treatment involve?
Footwear advice
Custom made or customized footwear
Custom orthotics and ankle braces
Therapeutic modalities, ultrasound, tens, stretching, strengthening, heat/cold
Steroid injection or oral medications
Minor surgical procedures
Hands-on care; nail and skin management