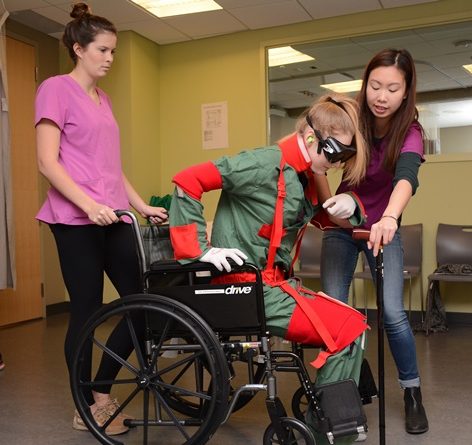 On Thursday, May 5, Michener students and staff came together to participate in the annual Working with Seniors simulation workshop.
Introduced in 2014 in partnership with Baycrest Health Sciences, the Working with Seniors curriculum is designed to provide students with first-hand perspectives and experiences of the challenges that seniors often encounter during medical appointments and procedures.
Currently, about every second patient admitted to a hospital in Ontario is a senior. By 2034, the number of seniors in Ontario will have doubled, with the expectation that the demand for healthcare among seniors will increase dramatically.
The first step to meeting this approaching need is through education. Michener has integrated Working with Seniors permanently into every full-time program, so that all students will enter their chosen career fields with basic competencies in working with seniors in a health care setting.
The intensive training combines flexible learning formats, such as e-learning modules, with simulation experiences including interacting directly with seniors, observing and participating in scenarios, and wearing an innovative frail aging simulation suit.
To the Michener community, the Working with Seniors simulation day is not just about providing a well-rounded education to our students; it's also a learning opportunity for staff. To ensure the course runs smoothly, staff take on many volunteer roles including acting as discussion facilitators to simulation coordinators.
"It takes a village to run the program, but Michener staff are up to the challenge" says Gillian Nichol, Director of Continuing Education, "almost all Michener staff are involved in some way."
The dedication shows. Evaluation results from the 2016 cohort of students were overwhelmingly positive.
"Approximately 90% of students said that the program improved their knowledge of assisting seniors," said Audrey Gottlieb, Coordinator, CE New Programs, Markets and Partnerships. "An astounding 92% said their attitude was influenced in a positive way."
The positive feelings were mutual for our senior participants as well. Senior citizens were engaged in many aspects of course development and implementation, such as program design, online content, panel speakers and even senior actors from Act II Studio for the simulation scenarios.
Panel member Doreen Pooley was especially thrilled with the way Michener students interacted with her.
"I was so impressed with the number [of students] that waved to me, spoke to me, or actually stopped to have a conversation with me," she said. "They all said 'thank you' and stressed how important they felt the panel experience was!"
For Audrey, who coordinates much of Working with Seniors, the overwhelmingly encouraging results are due to "the quality and dedication of our students, invaluable contributions from patients and the effectiveness of combining talents and championing collaboration between departments."