Toronto, ON – A new geriatric training course developed by The Michener Institute for Applied Health Sciences in partnership with Baycrest Health Sciences aims to prepare the next generation of healthcare professionals for the unique needs and care challenges of older patients.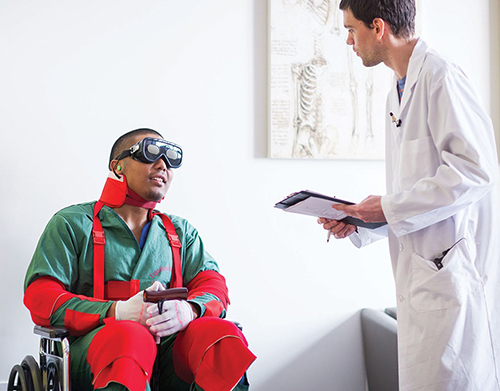 Working With Seniors: A Primer for Healthcare Providers is available to students enrolled in Michener's applied health sciences programs who go on to careers in fields such as diagnostic imaging, nuclear imaging, medical radiation and respiratory therapy. The program brings together Michener's expertise in responsive curriculum design and development with Baycrest's world-renowned expertise in geriatric care and aging brain research – to create a one-of-a-kind education experience for young professionals embarking on careers in healthcare.
"This partnership between The Michener Institute and Baycrest will better equip healthcare workers to provide care to seniors here in Ontario," says the Honourable Dr. Eric Hoskins, Minister of Health and Long-Term Care (MOHLTC). "This project aligns well with our province's Seniors Strategy. As the number of seniors continues to grow in our province, ensuring that healthcare workers are fully trained to care for them will ultimately mean even better access to healthcare."
In 2012, the MOHLTC developed a Seniors Strategy for Ontario to prepare the province's health system for the rising number of older patients requiring care. Currently, about every second patient admitted to hospital in Ontario is a senior. By 2034, the number of seniors in Ontario will have doubled, with the expectation that the demand for healthcare among seniors will increase dramatically. Education is considered an important part of the solution.
"As an academic partner of the Ministry of Health and Long-Term Care, our mandate is to be a responsive provider of educational solutions that meet current and emerging needs within the health system," says Maureen Adamson, President and CEO, The Michener Institute. "We are very proud to be working together with Baycrest on such an important program to educate future healthcare professionals on the importance of understanding the unique healthcare needs of people as they age, an important part of providing truly patient-centred care and contributing to a sustainable healthcare system in Ontario."
"This has been a truly gratifying partnership utilizing our mutual strengths," adds Dr. David Conn, Vice-President of Education at Baycrest, and Co-Chair of the Canadian Coalition for Seniors' Mental Health. "Together we've created a leading educational product that will help cultivate the clinical knowledge and skills required of health professionals caring for seniors."

The intensive week-long training – now incorporated into Michener's summer semester – combines flexible learning formats, such as e-learning modules, with simulation experiences including interacting directly with seniors, observing and participating in scenarios, and wearing an innovative frail aging simulation suit. The curriculum is designed to provide students with first-hand perspectives and experiences of the challenges that seniors often encounter during medical appointments.
Members of a seniors' advisory council from a local community health centre provided input for the content, along with a seniors' acting troupe known as ACT II. The senior actors participated in role-playing real-world patient and professional caregiver scenarios for students to both observe and engage in directly.
"The competency framework for this new program starts with the seniors' voices," says Gillian Nichol, Director of Continuing Education and project lead with the Working With Seniors program at Michener. "This really is a 'patient's first' approach, and respects the opinions and perspectives of seniors as experts in their own care, reinforcing the whole concept of 'nothing about me without me'."
Results from the first cohort of 270 full-time students who took the program last summer were encouraging. Nearly all of the participants reported that their knowledge and understanding of older adults had improved considerably. This included greater awareness for respecting seniors' autonomy, creating senior-friendly environments, and being adaptive and responsive to the individual needs and wishes of seniors.
"It was an eye-opening experience," says Elizabeth Pickles, a Medical Laboratory Sciences Program student who completed the program and is now in her clinical placement in Ottawa. "It reinforced the importance of customizing your approach around the needs of each patient."
Michener has now integrated the program permanently into its curriculum so that all students will enter their chosen career fields with basic competencies in working with seniors in a healthcare setting. Michener and Baycrest hope to extend the curriculum to Michener graduates and general entry-to-practice healthcare professionals in the future.
For Media: Program leads at Michener Institute and Baycrest are available for interviews by phone. If any media are interested in visiting Michener Institute to try on the frail aging simulation suit, or to interview students who participated in the program, please contact Todd Leach, 416-596-3120.
-30-
Contact:
Todd Leach, The Michener Institute
tleach@michener.ca, 416-596-3120
Kelly Connelly, Baycrest Health Sciences
kconnelly@baycrest.org, 416-785-2432
ABOUT THE MICHENER INSTITUTE FOR APPLIED HEALTH SCIENCES:
Established in 1958, The Michener Institute for Applied Health Sciences is Canada's only post-secondary institution devoted exclusively to health sciences education. Michener offers full-time and continuing education in Imaging, Medical Laboratory Sciences, Medical Radiation Sciences, Primary and Critical Care and other specialized applied health programs. With a robust and responsive curriculum that emphasizes inter-professional collaboration and simulation based training, graduates are prepared to deliver quality diagnostic and therapeutic services. Michener is publicly funded by the Ministry of Health and Long-Term Care and further enriched through partnerships with universities, private sector companies and leading health care organizations. For more information, visit us at www.michener.ca.
ABOUT BAYCREST HEALTH SCIENCES:
Baycrest is unique in the world, combining a comprehensive system of care for aging adults, one of the world's top research institutes in cognitive neuroscience, dedicated centres focused on mitigating the impact of age-related illness and impairment, and unmatched global knowledge exchange and commercialization capacity. Baycrest Global Solutions Inc. was established in 2012 to help healthcare providers in Canada and around the world deliver the best in geriatrics programming, therapies, education and technologies. For more information, visit www.baycrest.org.