For the third year in a row, a Michener student has been honoured by the Respiratory Therapy Society of Ontario (RTSO) Student Achievement Award.
Each year, the award is given to a graduating respiratory therapy student in Ontario who has demonstrated leadership and professionalism, contributed to a positive environment during their clinical training, and who has actively promoted the respiratory therapy profession.
This year's winner, Anna Nikolajewski went beyond her studies by contributing to activities like Michener's Respiratory Therapy Week, The Lung Association's Tulip Day campaigns and peer tutoring.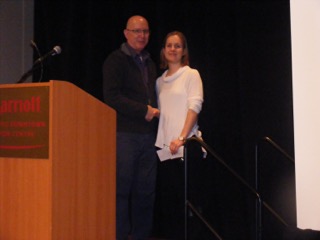 Mike Kiem (left) Treasurer of the Respiratory Therapy Society of Ontario (RTSO) awards 2015 respiratory therapy graduate Anna Nikolajewski with the RTSO Student Achievement Award
"These activities helped me to build strong relationships," says Anna, a 2015 graduate of Michener's Respiratory Therapy program. She explains that events around Michener that promoted lung health and lung research were important to her specifically because they helped champion the respiratory therapy profession.
Anna's support of the respiratory therapy profession, both in her involvement around the school and her dedication in the classroom and clinical placements, caught the attention of her professors and clinical instructors alike.
"It was an honour to nominate Anna for this award on behalf of our faculty group. We are very proud of Anna's accomplishments academically, clinically, professionally and in contributing to the community at Michener and the Lung Association," says Kathleen Olden-Powell, a registered respiratory therapist and professor at The Michener Institute.
"It was a pleasure to have Anna as a student. I was so pleased she was recognized for her achievements, and that I was present when she received the award."
Sandi Ellis, a clinical coordinator at Sunnybrook Health Sciences Centre who taught Anna during her placement, joined Kathleen in nominating Anna for the RTSO Student Achievement Award.
"Anna created a positive environment wherever she went," wrote Kathleen and Sandi in the nomination letter. "She took advantage of every learning opportunity, frequently staying after the end of her designated shift to observe or participate in patient care or educational activities."
Now a registered respiratory therapist, Anna credits her time at Michener and her clinical placements for preparing her for her career.
"I learned how important teamwork is in this profession, and within health care in general, to ensure the most positive clinical environment and outcome for patients and their families," she says.