Before Michener graduates enter the workforce, before they pass their exams, complete their clinical placements and long before they finish their classes, they have to take one last important step: the Multiple Mini Interviews. Multiple Mini Interviews (MMI) are a unique series of short-form interviews that have been adopted by medical schools across the country to ensure they're accepting students who are a good fit for the work.
At Michener, the MMI process relies upon upwards of 400 volunteers from around the Michener community to manage the interview circuits, coordinate applicants and conduct the interviews themselves. Volunteers range from current students, to Michener faculty, staff, alumni and clinical partners and educators.
"We rely on our external community to make this event a success," says Karyn Roscoe, Manager of Student Enrolment at Michener.
"We're actively involving the Michener community in the selection process. We've all been touched by health care and it's important that we pick the right people to become Michener students, because one day they're going to be looking after us."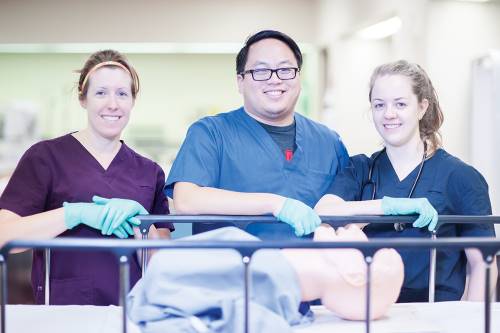 For Michener volunteers, MMI Week is one big way to give back to the community.
"It gives you a chance to shape who comes to Michener and who the future healthcare leaders will be," says Chris Hau, a Michener respiratory therapy alumni, six-time MMI volunteer and the 2015 MMI Logistics Coordinator.
"It's important that a variety of people from Michener have an input in the student selection process to ensure there is representation by different groups," adds Jade O'Sullivan, a three-time MMI volunteer and Michener staff.
"If you volunteer, you get to help select a great next group of students for Michener."
Camille Vaughan remembers what it was like to interview for her spot at Michener. Now a second-year radiological technology student, she says it was one of the most nerve-wracking things she has ever experienced.
"Coming to Michener and seeing all the other prospective students actually gave me some comfort," she recalls.
"I knew that there were other people going through the same process who were as, if not more, nervous than me."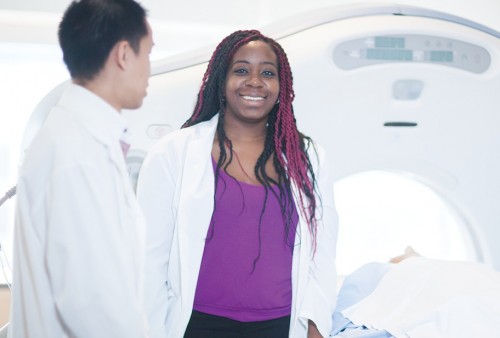 Camille now volunteers as a Circuit Manager for the Multiple Mini Interviews.
"I'm there to make sure that candidates make it through the circuit and to assure them that they can make it through," she says. "It will be over faster than they realize and then they'll wonder why they were so worried in the first place."
Multiple Mini Interviews, also known as MMI, are held at Michener every year as a key part of the admissions process. Michener uses the series of short interviews to help select the top applicants for its full-time programs. These interviews assess qualities like responsibility, teamwork, ethics, communication and other non-cognitive characteristics critical to a successful and compassionate healthcare provider. Karyn Roscoe acknowledges the importance of the volunteers for this week to be possible.
"MMI volunteers are people who are invested in their own healthcare," says Karyn. "This is an opportunity to participate in it."