Enhancing Michener's role as Canada's only education institution devoted exclusively to applied health sciences education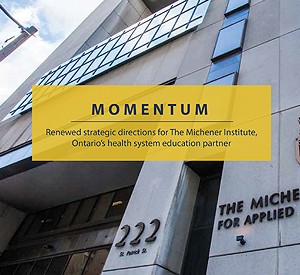 For nearly 60 years The Michener Institute for Applied Health Sciences, as an education partner of the Ministry of Health and Long-Term Care, has served Ontario's healthcare system through the development and delivery of unique full-time and continuing education programs in imaging, medical radiation sciences, laboratory sciences and primary and critical care.
We are now poised to strengthen our role as an education leader with the launch of new strategic directions that expand on our ability to deliver unique education solutions that are fundamental to health system quality, transformation and sustainability.
With the launch of these new strategic directions, we're building on our expertise of rapidly designing and developing 'first-mover' curricula and education programming for applied health sciences. We're building on our capacity to establish innovative clinical and academic partnerships that nurture new thinking in education and professional development. We're building on our experience to bring together technology and simulation to advance hands-on and contemporary education experiences for students.
Inspired by our new strategic priorities and energized by our students and our partners, we're building momentum toward an exciting future for Michener and for applied health sciences education in Ontario, and beyond.
Explore our strategic directions by checking out one of the options below: