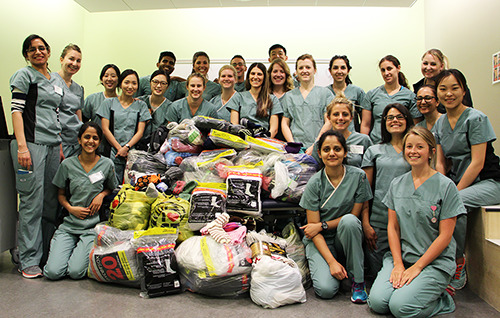 Thanks to the generosity of a small Newfoundland community and some friendly competition, the Chiropody program's annual sock drive has made Michener history.
Each year throughout the month of May, Michener's second-year chiropody class collects new, unworn socks to raise awareness of Foot Health Month and support Toronto's homeless community. This year, they nearly tripled their usual haul, collecting an overwhelming 1,050 pairs of socks for donation to the Good Shepherd Centre's homeless outreach program in Toronto.
It started in early May 2016 after one Michener student reached out to her hometown in Newfoundland through social media to start collecting socks. Before long, Kathryn O'Rielly, a second-year chiropody student, made the news in Newfoundland and Labrador for collecting 350 pairs of socks from in and around St. Anthony, a town of just over 2,000 people in northern Newfoundland.
"When I reached out to my friends and family back home, I received an overwhelming amount of support," Kathryn says. "I received socks from every corner, nook and cranny: my grandmother's community in Southern Newfoundland to my hometown on the Northern Peninsula, even southern Labrador and everywhere in between."
According to the story out of Newfoundland, more than half of the donated socks were hand-knit.
"People were more than happy to donate when they heard about what I was doing," Kathryn adds. "The sincere generosity from Newfoundlanders and Labradorians towards the homeless here in Toronto strengthened my faith in humanity."
Friendly Competition
Most years, a chiropody class of about 30 students collects approximately 400 pairs of socks, according to Antonietta Galati, clinical coordinator in Michener's Chiropody clinic and one of the organizers of the annual drive. The sudden spike this year was a pleasant surprise, she says, and the record-breaking haul came from a simple collective impulse:
"Competition," Antonietta laughs.
Each year, she explains, the class is typically divided into two groups and challenged to collect as many pairs of socks as they can. Whichever group can collect the most socks wins.
Not to be outdone after Kathryn's story was featured in the news in Newfoundland, another student secured a donation from a department store for an additional 400-plus pairs of socks. Combined with additional donations from community partners and Michener faculty, students and staff, this year's sock drive was an undisputed record-breaker.
"Next year's class will need to start collecting now to break this record," Antonietta says jovially.
Not to add any pressure, she adds, "Whatever amount they can collect will go to a great cause, and the Chiropody program will be proud regardless."
"Something many of us take for granted"
As primary health care providers, chiropodists often work with people who have chronic health conditions like diabetes or rheumatism, or with vulnerable populations such as the homeless and marginally housed.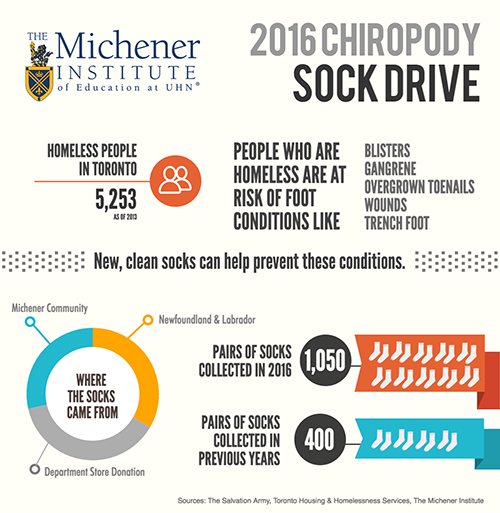 The sock drive is a chance for the students to become more aware of foot health conditions for which people who are homeless are particularly at risk.
"For those who wear shoes all day and don't have the facilities to wash their socks regularly, it becomes a moisture-rich environment where microorganisms such as bacteria and fungus can grow," explains Meera Narenthiran, a Chiropody professor at The Michener Institute. New, clean socks are an important, and sometimes overlooked, part of health for people who are homeless.
"Many foot conditions can be prevented and helped with proper foot hygiene," adds Kathryn. "Socks are something many of us take for granted and not everyone has the means to buy what they need. It's important not the lose sight of this when working in health care. Every patient and their situation are unique."
The donated socks from the 2016 Chiropody sock drive have been donated to the Good Shepherd Centre that provides food, shelter and clothing services to an estimated 16,000 individuals in Toronto.