How Michener is addressing ageism in healthcare
Marie Blanchard had a cold.
She got it on the plane, on her way home from vacation, and started coughing just as her plane landed.
"I was coughing quite badly and they plunked me in a wheelchair," recalls the 70-year-old Toronto resident. "I never use a wheelchair, but they wanted to hurry me through."
Marie was ushered off of the plane in a wheelchair she didn't need, unable to access her water bottle and puffer. Her coughing persisted, and soon after, paramedics were called. She told them she was fine after drinking some water, but despite this, the paramedics decided to send her to the hospital. At the hospital, Marie received a chest X-ray, an EEG brain scan and blood tests to determine whether she was having a heart attack.
"I was diagnosed with the common cold," Marie says, adding that she already knew that's what caused the coughing fit.
Although catching an illness coming home from vacation is a serious cause for concern, Marie maintains that the initial reaction and the consequent escalation was a classic case of ageism.
Experiences like Marie's are common in the modern health care system. Without consulting her on her own care, Marie was ushered through a series of tests and procedures that potentially exposed her to unnecessary risk, and only served to confirm something she already knew.
This month, the Canadian Medical Association Journal published a study that shed light on the inconsistency of treatments for older patients. The study showed that age plays a factor in the quality of care that patients receive: a fact Michener has known for some time, and addresses in its curriculum design across all programs.
"There is a systemic bias towards ageism in the health care field," says Gillian Nichol, Michener's Director of Continuing Education.
In 2014 Michener introduced the Working With Seniors program, a geriatric training course developed in partnership with Baycrest Health Sciences. The program is designed to build knowledge and skills for working with seniors, but also to build awareness about the biases that get in the way of providing the best possible care for seniors. Michener has since integrated the program permanently into its curriculum, so that all students will enter their chosen career fields with basic competencies in working with seniors in a health care setting.
"Among other goals, the program is trying to alert students and professionals to the systematic biases that exist so that they can be in the position to recognize when they are occurring, to prevent them in their own practice, and to challenge them," says Gillian.
The Working With Seniors program incorporates the patient voice throughout its delivery. Based on a "nothing about me without me" approach, Working With Seniors engages seniors in all components and stages of the program, including ongoing program enhancements.
Marie was one of five panelists who shared their health care system experiences, both positive and negative, with Michener students when the most recent Working With Seniors session began in May 2015. Hearing their stories ensured students were attuned to the older patient perspective right from the start.
"The program has had a positive change on my perspective as a health care professional," says Amanda Lamb, a Michener radiation therapy student who participated in the most recent session. "Through the modules and interactive activities, I found my attitudes towards working with the elderly change."
Designed initially for Michener's full-time students, Working with Seniors is now offered as part of Michener's Continuing Education programming to help established healthcare professionals provide the best possible support for Ontario's growing seniors population.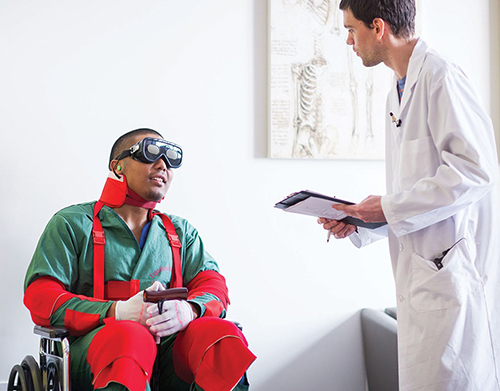 "One of the most effective ways we can better prepare the health system to respond to the growing needs of an aging population is through education. By preparing current and future healthcare professionals to better understand older patients and the unique needs and challenges they face, as Michener is doing, we are also influencing the health system's capacity to transform and innovate in the way we care for our aging population."
– Dr. Samir Sinha, the provincial lead for Ontario's Senior Strategy and Director of Geriatrics at Mount Sinai and the University Health Network Hospitals in Toronto.