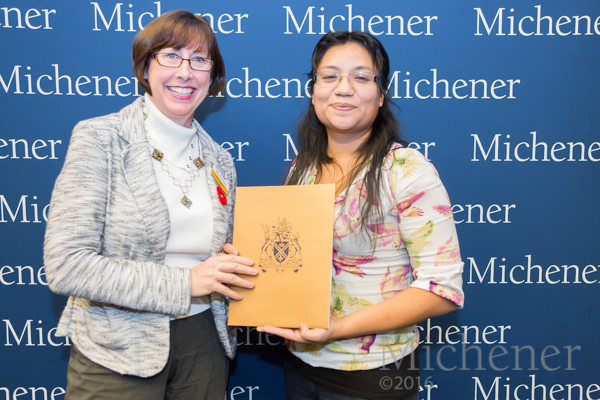 Starting a program at a new school is always tough. But imagine beginning one at a new school when you've recently arrived in Canada from abroad, leaving behind your family, friends and a career you've worked so hard to achieve.
Now take it one step further and think about what it would take to then win an academic award based on outstanding achievement in your program, especially when many of your classmates are Canadian-born students who already know the city, the language, the culture.
It sounds almost impossible, but this is the story for a number of students at The Michener Institute of Education at UHN.
"I hit many obstacles before I applied to Michener," says Susana Coronado, who arrived from Lima, Peru in 2005.
Before arriving in Canada, Susana attended Federico Villarreal National University in Lima and graduated with a Bachelor's degree in Medical Technology. She worked as a Medical Laboratory Technologist (MLT) in a biochemistry and hematology lab after she completed her studies.
"My father immigrated to Canada first, and sponsored my whole family to come over," Susana says. "I knew I would have to start from scratch in Canada, but I thought it would offer me better opportunities.
"The first thing I had to do when I arrived in Canada was learn English, and it took me three years."
Susana is now a second-year student in Michener's Diagnostic Cytology program. In October, she received the Dr. Hugh Curry Diagnostic Cytology Scholarship for academic achievement, an award given to the student who has attained the highest average in certain cytology courses.
Before she applied to Michener, Susana wrote the certification exam for the Canadian Society for Medical Laboratory Sciences in order to work in Canada as a Medical Laboratory Assistant (MLA).
"I didn't pass the exam the first time because I didn't have enough knowledge of the field," Susana says. "The Canadian exam required knowledge that wasn't a priority in my training in Peru. I realized that I needed to train in a Canadian way."
Susana then learned about Michener's Diagnostic Cytology program, and was accepted on her second attempt.
"I was about to give up on my career path when I got my acceptance letter," she says. "I feel very lucky because I know that Michener is the right path to get my career back."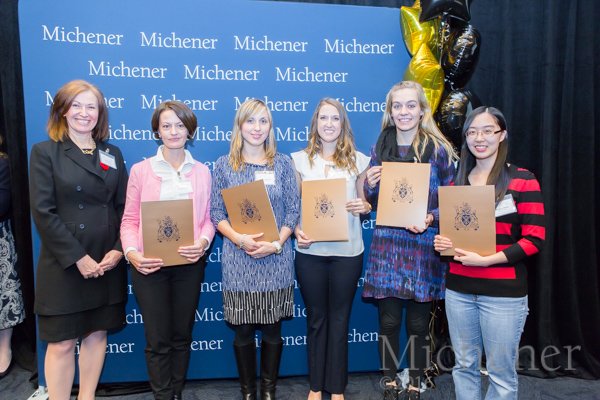 Susana's story is a common one for internationally-educated Michener students.
"All of our entrants meet a very high standard, but for those from other countries, the hurdles are even higher," says Dr. Brian Hodges, Executive Vice-President of Education at UHN.
"Despite this," Dr. Hodges continues, "I am amazed by the calibre of our international students and impressed by those who go on to win our top awards.
"Toronto is one of the most diverse cities in the world. Welcoming those who have knowledge, skills and perspectives to share from places around the globe enriches the experience for everyone."
Iryna Kharchuk, a first-year student in the Ultrasound program, arrived in Canada from Kiev, Ukraine in 2014 with her husband and two children. Iryna has a PhD from Kiev National University where she worked for over 10 years as a senior researcher focusing on the toxicity of anti-cancer drugs.
When Iryna arrived in Canada, she took English classes and volunteered at the University of Toronto's Department of Biochemistry. She learned quickly that it would be difficult to find the same level of job that she had in Kiev.
To find a new career path, she started volunteering in the Diagnostic Imaging Department at St. Joseph's Health Centre in Toronto.
"I worked two retail jobs, and volunteered once a week at St. Joseph's," she says. "I saw first-hand how the ultrasound division functioned on a daily basis, and I realized that I could apply my education and skills to a new career.
"I was ready for a change."
For Iryna, it was important to keep an open mind.
"I'm an adventurous person and I thought this was an exciting time. People in my situation shouldn't be settled in their ways. You can apply your education and work experience to something completely new."
It's an important mindset for Iryna because, as she says, "you never know where it could lead."
After applying to Michener twice, Iryna was accepted into the Ultrasound program in 2016 and was one of eight people to receive an Entrance Award for academic accomplishment and community involvement in her first year.
When asked what winning the Entrance Award meant to her, she says, "I was thrilled. All of my experience and hard work was recognized.
"Winning this award from Michener made me feel so welcomed and appreciated."
Scholarships, Bursaries and Awards at The Michener Institute