What diseases or conditions do you think have some of the highest mortality rates? Different kinds of cancers or infectious diseases might come to mind, but according to Michener alumnus Laura Lee Kozody, the answer may surprise you. Diabetic foot ulcers, a major complication related to diabetes, have higher five-year rates of mortality than breast, colon or prostate cancer, and are one of the leading causes of mortality for people with diabetes. In fact, the mortality rate for diabetic foot ulcers has been reported to be between 43 per cent and 55 per cent, and up to 74 per cent for patients with lower-limb amputations.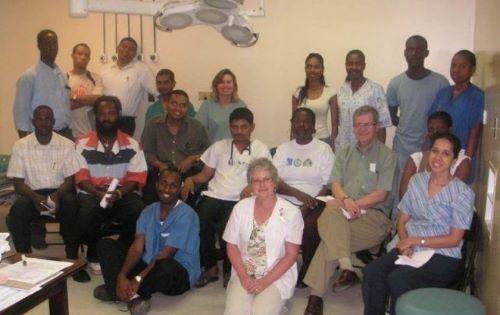 In many parts of the world, diabetes is a highly manageable disease when coupled with proper care and treatment. However, in countries where resources are limited, diabetes often goes untreated, which can lead to complications such as a diabetic foot ulcer. Without foundational knowledge of diabetes, the primary form of treatment for diabetic foot ulcer is to amputate the affected part of the lower limb. These countries would greatly benefit from the specialized care of chiropodists.
Laura Lee is a 1992 graduate from Michener's Chiropody program. In addition to working as a chiropodist at a private interprofessional practice in Mississauga, for nearly ten years she has devoted herself to philanthropic work abroad with the goal of raising awareness of preventative diabetic care and recognized best practices.
Much of her international volunteer work started after Laura Lee made her first trip to Guyana in 2008 with a group of Canadian doctors, nurses and other health care professionals who called themselves The Guyana Diabetes and Foot Care Project. She, along with other members of the team, has returned to Guyana several times since then.
The Guyana Diabetes and Foot Care Project
Guyana, located in northern South America, is a multicultural country with people of South Asian, African, and Amerindian origins – groups that, according to the American Diabetes Association, are all at high risk of developing diabetes.
Despite access to universal health care, Guyana experiences a consistent shortage in health care professionals, with an even larger shortage of professionals in specialized areas like chiropody. When The Guyana Diabetes and Foot Care Project team arrived in 2008, diabetes was the fourth leading cause of death in Guyana.
The Guyana Project team collaborated with important decision makers in Guyana, from the doctors at Georgetown Public Hospital Corporation, to the Ministers of Health. The urgency of the issue was immediately recognized, but according to Laura Lee, it was important to take the time to come up with sustainable solutions.
"You can't just go [to Guyana] and say 'this is how to do it' and then expect the Guyanese professionals to carry it on when they don't have the appropriate resources," Laura Lee explained. "The solution must be sustainable."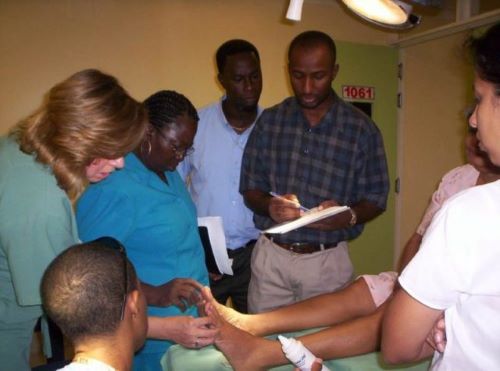 After careful consultation and collaboration, the Guyana Project team and Guyanese health care professionals came to tackle the issue in two phases: Phase One, which would take place from 2008 to 2010, and Phase Two, which would take place from 2010 to 2013. The goal for Phase One was to develop a Diabetic Foot Centre within the Georgetown Public Hospital, the country's largest hospital. The goal for Phase Two was to build capacity across the country by training the health care professionals in each jurisdiction and to create regional diabetic foot ulcer clinics. Training was facilitated in part by Michener's own Diabetes Educator program.
The Simplified 60 Second Foot Screening
Before the team could focus on the new Diabetic Foot Center, Phase One of the project was largely focused on educating local health care professionals on the basics of diabetic care and treatment.
"There was a need for the local health professionals to understand how to manage foot ulcers," Laura Lee explains. "And if we could succeed in that aspect, then we could shift the focus to preventative care."
Laura Lee and a few of her colleagues developed a simplified 60-second screening tool to assess the feet of patients with diabetes to identify persons with a high-risk of developing a foot ulcer. The way it worked was simple: working off of a checklist, if the assessed foot received at least one positive score, the patient would be referred to the hospital's new Diabetic Foot Centre for education and treatment.
This tactic was so successful, that according to statistics compiled by members of the Guyana Project, in the first four and a half years of the Diabetic Foot Center operations, there was a 68 per cent reduction in the average rate of major amputations.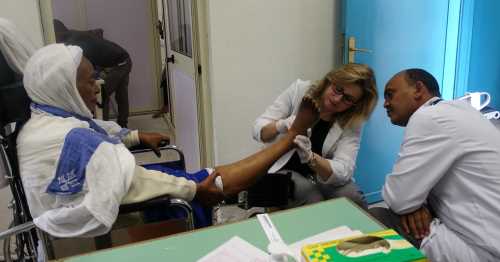 Beyond Guyana
Thanks to such positive outcomes in Guyana, Laura Lee and her colleagues realized the potential to extend the program more broadly.
"Because the Guyana Project was so successful, the team found that it was significantly easier to receive funding [to travel to] other countries with a diabetes epidemic," she explains.
Most recently, Laura Lee traveled to Ethiopia to continue her work spreading awareness of diabetic foot care. While there, she encountered other health care volunteers affiliated with Toronto Addis Ababa Academic Collaboration (TAAAC) from the University of Toronto.
Read about TAAAC in the blog post by Dr. Brian Hodges, EVP Education at The Michener Institute
Though volunteering abroad is greatly rewarding, Laura Lee says going abroad so frequently is not always an easy decision to make.
"It's difficult because I am not earning an income in that time [abroad]" she says. "And it's sometimes hard to leave my practice for longer stretches of time."
But would Laura Lee volunteer abroad again?
"Yes, definitely. I don't have the ability to say no," she joked.