Radiation therapy is the use of high-energy radiation to target and destroy cancer cells in specific areas of the body. Cancer cells divide more quickly and are less capable of repair, making them more vulnerable to the effects of radiation compared to normal cells. More than half of those diagnosed with cancer will receive radiation therapy.
Radiation therapy is used as a main treatment alongside surgery, chemotherapy, or hormonal treatment, depending on the stage and the kind of cancer. Radiation therapy is also used as a palliative treatment to decrease the size of the tumour, any distressing symptoms caused by the disease and to improve the quality of the individual's life.
The responsibilities of a radiation therapist include:
Designing a treatment plan
Constructing patient positioning or accessory devices
Accurately positioning the patient
Delivering the radiation treatment
Calculating the radiation doses
Documenting and maintaining accurate treatment records
Providing support and counselling to the patient and family, including making referrals to other members of the healthcare team
The Linear Accelerator
The most common way to deliver the radiation is by external beam therapy. External beam radiation therapy is delivered using a linear accelerator (LINAC), which aims the radiation beam outside the body to the exact tumour location inside the body
A radiation therapist applies radiation therapy for the treatment of cancer. Radiation therapists work within an interprofessional oncology team which includes of nurses, radiation oncologists, medical physicists and other healthcare providers in cancer centres.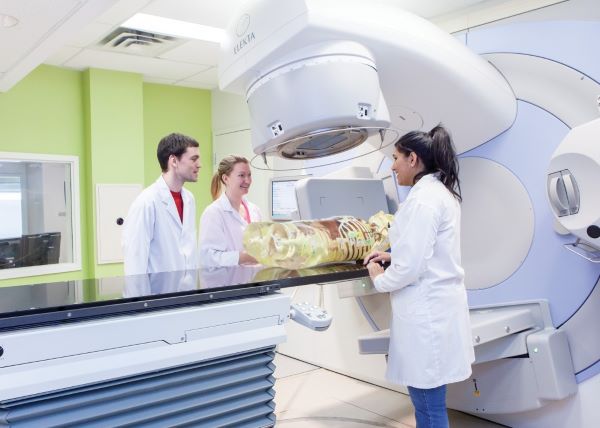 Steps in Radiation Therapy Treatment

How do I become a Radiation Therapist?
The Michener Institute offers joint programs in radiation therapy with University of Toronto and Laurentian University that are accredited by the Canadian Medical Association. Graduates are eligible to write the national certification examinations conducted by the Canadian Association of Medical Radiation Technologists (CAMRT). Certification qualifies graduates to work across Canada and allows them to apply for registration with the College of Medical Radiation Technologists of Ontario (CMRTO).