Radiation Therapy: University of Toronto Joint Program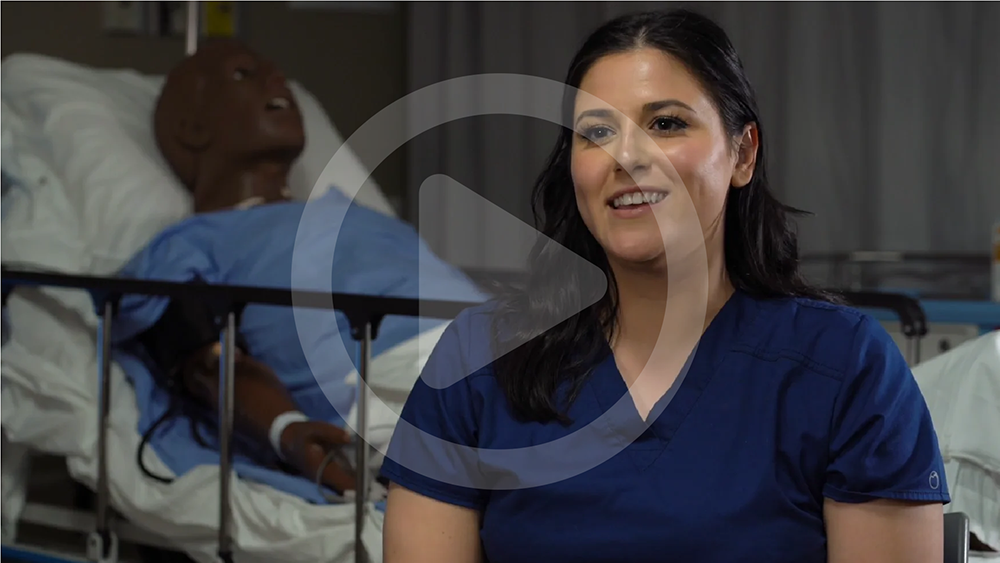 Program at a glance:
Credential Earned: Bachelor of Science in Medical Radiation Sciences from the University of Toronto and Advanced Diploma from The Michener Institute of Education at UHN
---
Program Length: 3 years (Full-time)
---
Program Delivery: On site with online components (University of Toronto's St. George Campus and Michener's St. Patrick Campus)
---
Start Date: September 2024
---
Application Deadline: February 1, 2024
---
Program Code: TRT
---
About the Program
Compassionate patient care, when it's needed most
Graduates of the University of Toronto / Michener Radiation Therapy program will leave the program equipped with the skills needed to successfully practice in all aspects of the profession, including monitoring, educating and counselling patients; calculating and planning treatments; positioning and delivering treatment to patients using ionizing radiation, all in an interprofessional environment.
Students will have access to learning labs outfitted with equipment and technology used in professional clinical settings, preparing them with fundamental and professional knowledge, skills and critical thinking before being placed into the clinical environment.
The curriculum is constructed to provide students with opportunities to practice in a safe simulated clinical environment before proceeding to their final clinical placement to demonstrate competence.
Graduates are eligible to write the national certification examinations conducted by the Canadian Association of Medical Radiation Technologists (CAMRT) . Certification qualifies graduates to work across Canada and allows them to apply for registration as a Radiation Therapist with the College of Medical Radiation and Imaging Technologists of Ontario (CMRITO) as well as other provincial regulatory bodies (where required).
The Radiation Therapy program is accredited by Accreditation Canada . Accreditation is a quality improvement process that ensures educational programs meet national standards and that students acquire the knowledge, skills and competencies for safe and effective care at entry to practice.
"Problem solving and communication skills are important to succeed in the Radiation Therapy program. The faculty are amazing and will prepare you for success."
Take a Radiation Therapy Virtual Tour
Visit the U of T website for application information
Admission Requirements
Radiation therapy is the use of ionizing radiation to treat patients with cancer. Radiation Therapists work closely with an interdisciplinary health care team, comprising of radiation oncologists, physicists, nurses and other health care professionals to provide a compassionate, patient-focused model of care.
Radiation Therapists use a variety of advanced computer systems and sophisticated radiation therapy equipment to design treatment plans and deliver radiation to treat patients with cancer. These professionals play a vital role in providing patient education and support throughout the radiation therapy treatment pathway, including counselling patients on expected side effects of radiation and ways to minimize them.
Graduates from the program find employment in cancer centres, clinical research, education, government agencies, medical equipment and software sales, support and applications.
Graduates can further specialize in many areas such as research, magnetic resonance imaging (MRI), ultrasound, health informatics, education and management.
When you enroll in the Radiation Therapy program you will study various topics and procedures, including positioning patients accurately for radiation therapy treatment, performing imaging procedures, assessing and creating individualized patient care plans for management of radiation therapy treatment, how to explain the potential side effects of radiation therapy treatment and how to monitor, educate and support patients and their families.
Additionally, you will learn how to effectively work with radiation oncologists, physicists and other members of the health care team to design and assess optimized, individualized treatment plans using specialized computer software.
For detailed course descriptions please see the UofT Radiation Therapy Program page.
Length: 42 weeks
8 weeks at the end of Year 1
4 weeks at the end of Year 2
30 weeks in Year 3
At the end of the first year of the program, you will be placed in an affiliated clinical site for an eight-week period in May and June. At the end of the second year, you will return to your assigned clinical site. In the third year of the program, you will continue at the same site for two full semesters (30 weeks).
Clinical Education sites include teaching and regional hospitals primarily based in Ontario as well as other provinces. The clinical placements may be in any of the Program's clinically affiliated sites. Affiliated sites for Radiation Therapy are located both across the province and out-of-province.  You will work closely under the supervision of Radiation Therapists and use your knowledge and skills in practice during the clinical phase of your program. Clinical placements give you hands-on experience in work environments and the opportunity to network with potential employers.
For more information about Clinical Education, please see Michener's Clinical Education Model page.
Textbooks
Scholarship & Bursaries
Tuition