Radiation Therapy: University of Toronto Joint Program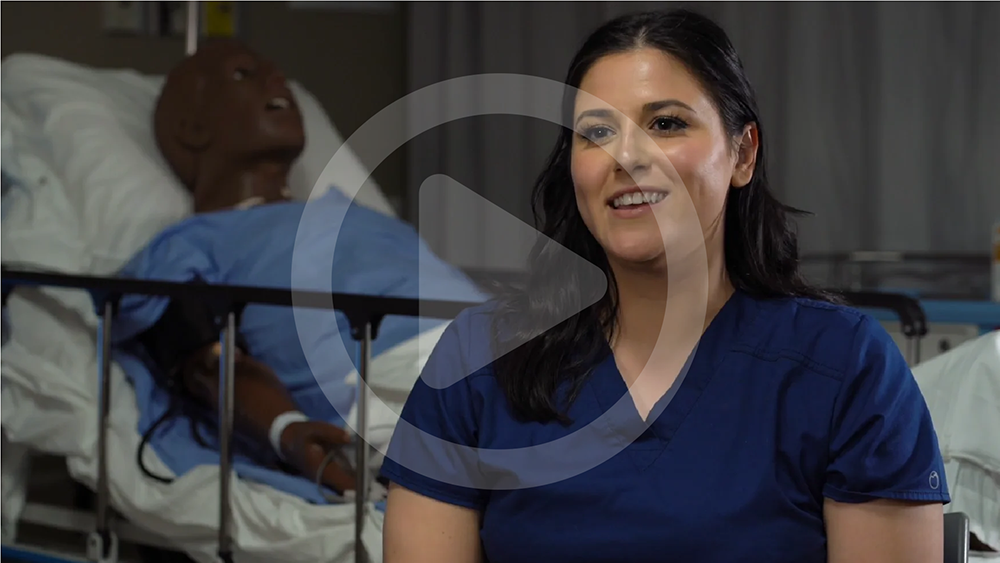 Program at a glance:
Credential(s) Earned
Bachelor of Science in Medical Radiation Sciences from the University of Toronto & Advanced Diploma in Health Sciences from The Michener Institute of Education at UHN
Program Length
8 semesters over 3 years
Delivery Method
Full time
Start Date
September 2021
Tuition
Canadian Student Tuition
International Tuition
Application Deadline
February 1, 2021
Program Code
TRT
Career Opportunities
You will work within an interdisciplinary oncology team consisting of physicians and other healthcare providers in cancer centres. You will use advanced computer systems and sophisticated radiation therapy equipment to deliver radiation beams to destroy tumours. You will also play an important role in providing patient support throughout the treatment process, including counselling patients on expected radiation side effects and ways to minimize them.
Future career opportunities include (but are not limited to) research activities, advanced roles such as the Clinical Specialist Radiation Therapist, management, education, sales/marketing, other specialties such as magnetic resonance imaging & computed tomography, and diverse higher educational  programs.
Graduates are eligible to write the national certification examinations conducted by the Canadian Association of Medical Radiation Technologists (CAMRT). Certification qualifies graduates to work across Canada and allows them to apply for registration with the College of Medical Radiation and Imaging Technologists of Ontario (CMRITO). Radiation Therapy is a regulated profession within Ontario.
Take a Radiation Therapy Virtual Tour
Many of our lectures are delivered by expert faculty from the University of Toronto's Department of Radiation Oncology who are actively involved in advancing clinical practice and world-class research. Clinical placements are offered at sites across Ontario representing a variety of cancer services and programs. In addition, a longitudinal and integrated Interprofessional Education curriculum provides essential learning opportunities for students to practice communication, critical thinking, and conflict management with students from other health care disciplines; essential skills for collaborating in the interprofessional team.
Learners will also have the opportunity to select one of three selectives pathways: Magnetic Resonance Imaging (MRI), Imaging Informatics or Clinical Management. They are designed to provide learners with an option for additional career development post-graduation.
Graduates are also eligible to write the certification exam conducted by the American Registry of Radiological Technologists (ARRT).
Graduates will earn a Bachelor of Science specializing in Medical Radiation Sciences (BSc. (MRS)) from the University of Toronto and a diploma in Health Sciences from the Michener Institute and may pursue advanced studies at University of Toronto or Michener, including: 
Radiation Therapy is the use of ionizing radiation to treat patients with cancer. Radiation Therapist work closely with an interdisciplinary health care team, comprising of Radiation Oncologist, Physicist, Nurses and other Health Care Professionals.  As part of the curriculum, you will have the opportunity to practice in a simulated clinical environment in all aspects of Radiation Therapy, including treatment delivery, patient communication and treatment planning.  
Radiation Therapists use advanced computer systems and sophisticated radiation therapy equipment to design treatment plans and deliver radiation to treat cancer, located on campus at Michener. These professionals play a vital role in providing patient education and support throughout the treatment pathway, including counselling patients and their families on the potential side effects they may experience and ways to minimize them.  
work within an interdisciplinary oncology team consisting of Radiation Oncologists, Medical Physicists and other healthcare providers in cancer 

centres




planning or simulating a patient's treatment on a CT and/or MRI unit

 

constructing immobilization devices and other patient accessory devices

 

performing dosimetry planning (e.g., physics and dose calculations) using specialized computer software to optimize a patient's treatment plan

 

accurately position patients for treatment and perform imaging procedures for verification (image-guided radiation therapy)

 

applying radiation therapy treatment using sophisticated radiation therapy units

 

recording and verifying a patient's treatment

 

maintaining detailed treatment records

 

performing quality assurance checks on radiation therapy equipment and treatment records

 

adhering to radiation protection and safety standards

 

educating the patient on procedures, expected radiation side effects

 

providing support and counselling to a patient and his/her family, and making referrals to other health care professionals as needed

 

treating around 30-40 patients a day with each patient coming for daily treatment over a period of several weeks.  A strong rapport develops between the therapist and patient over this time.

 
Radiation Therapists are vital members of the interprofessional health care team devoted to providing compassionate, patient-focused care. Radiation Therapists must have the skills necessary to communicate with patients, problem-solve, and work well with other members of the health care team.  They also need to possess the technical expertise to operate medical imaging equipment safely. 
Consider Radiation Therapy if you:
enjoy working with others and have excellent interpersonal and communication skills
can provide compassion, understanding, and support to a patient during a stressful time
enjoy working in a fast-paced health environment
have a strong interest/skill in physics
have an interest in operating computers, sophisticated radiation therapy equipment and imaging technology
The joint University of Toronto/Michener Radiation Therapy Degree/Advanced Diploma program is a three-year full time program. There is one intake each year, in September, and courses are held at both University of Toronto's St. George campus and at Michener. 
Applicants to the Radiation Therapy – University of Toronto Joint Program must possess specific qualifications in order to be eligible for admissions. Please visit our Admissions Requirements by Program page for details.
See Admissions Requirements
In order to support discipline-specific activities / course work in the joint Medical Radiation Sciences program (all streams), students must have dedicated access to a PC with a Windows operating system (OS) that meets identified minimum technology requirements. (Please refer to Michener's Minimum Technology Requirements –  https://michener.ca/admissions/registrars-office/minimum-technology-requirements/ for full details). All non-Windows based devices such as:
Apple macOS devices (e.g. Macbooks, iMacs)
Apple iOs devices (e.g. iPad, iPhone, iPod touch)
Android devices (e.g. Samsung, Google, LG phones & tablets)
ChromeOS devices (e.g. Chromebooks & Chrometops)
are not recommended and cannot be supported, as they do not currently support MRS Program discipline-specific tools.
YEAR 1
Semester 1 – Fall

Comparative Medical Imaging
Patient Care in Medical Radiation Sciences I
Anatomy for Medical Radiation Sciences
Introduction to Clinical Oncology
Radiobiology and Radiation Protection
Introduction to Radiation Physics

YEAR 1
Semester 2 – Winter

Patient Care in Medical Radiation Sciences II
Physiology
Relational Anatomy
Radiation Beams and Their Interactions
Radiation Therapy Methodology I

YEAR 1
Semester 3 – Summer

Introduction to Clinical Radiation Therapy
Selective I

YEAR 2
Semester 4 – Fall

Introduction to Research Methods
Integrated C.T. Imaging Theory and Practice I
Experiential Learning in IPEC
Clinical Oncology I
Treatment Planning I
Radiation Therapy Methodology II

YEAR 2
Semester 5 – Winter

Clinical Behavioural Sciences
Experiential Learning in IPEC (continued)
Clinical Oncology II
Treatment Planning II
Radiation Therapy Methodology III
Patient Care in Radiation Therapy

YEAR 2
Semester 6 – Summer

Simulated Clinical Experience: Radiation Therapy
Health Improvement Initiatives
Selective II
Transition to Clinical Radiation Therapy

YEAR 3
Semester 7 – Fall

Clinical Radiation Therapy II
Research Methods
OR
Research in Practice

YEAR 3
Semester 8 – Winter

Clinical Radiation Therapy III
Research Methods (continued)
OR
Selective III
Note: The above curriculum is subject to change. Clinical education may be scheduled as simulation experience at Michener or as placement in clinical environments with our clinical partners.
Selectives are courses that provide you with some expertise in specialized fields of practice such as MRI, ultrasound, health education, specialized radiation therapy methods, and computer-assisted image analysis, and may allow you to fast track certain advanced-level programs.
Length:    42 weeks
8 weeks at the end of Year 1
4 weeks at the end of Year 2
30 weeks in Year 3    
At the end of the first year of the program, you will be placed in an affiliated clinical site for an eight-week period in May and June. At the end of the second year you will return to your clinical site. In the third year of the program, you will be placed at the same site for two full semesters (30 weeks).
As clinical education is a major component of all Michener programs, our affiliated clinical sites are integral to your education. They include teaching and regional hospitals, in Ontario. Working closely under the supervision of Radiation Therapists, you will have the opportunity to integrate knowledge and skills into practice during the clinical phase of your program. Clinical placements give you hands-on experience in work environments and the opportunity to network with potential employers.
Clinical partner sites and number of student placement allocations at each site are subject to change and are confirmed at the time of your placement.  Please note that when you accept a seat in the program, you also accept to go to any of the program's affiliated clinical sites available at the time of your placement.
In addition, you agree to comply with the following mandatory requirements which must be completed prior to the start of your clinical placement:
First Aid and CPR Certification for Health Care Providers
N95 Mask Fit Testing
Updated Vulnerable Sector Screening (also required upon admission)
Updated TB Test (also required upon admission)
Michener highly recommends all students be vaccinated with influenza vaccine.  This vaccine may be a requirement at some clinical sites.  Students who are not vaccinated will be required to wear a mask during patient interaction throughout the influenza season (December-March).
For additional information regarding the health requirements, please refer to Michener's Health Services & Requirements page.
Testimonials
The Radiation Therapy program has been one of the best decisions I've ever made. The program has helped me realize my true potential through self-learning, as well as through lectures, practical skills and feedback. With the class sizes being small, the professors understand your strengths and weaknesses, and use those to develop your skills. Its carefully thought-out curriculum has prepared me for a career in this field and has given me the confidence to be an outstanding health care professional.