Every year, Michener comes together to celebrate the achievements of its students and the generosity of its donors. The annual Student Awards Ceremony, held on Wednesday, November 4, honoured scholarship and award recipients, and the donors who help contribute to academic success at Michener.
This year, the Student Awards Ceremony was also an opportunity to reflect on how Michener got to where it is today, and the exciting future that lies ahead.
Coming full circle
"When you give money to education, you give it to students," remarked Dr. Brian Hodges, Vice President of Education at the University Health Network (UHN), in his keynote address. "They grow, they flourish and they train the next generation of students."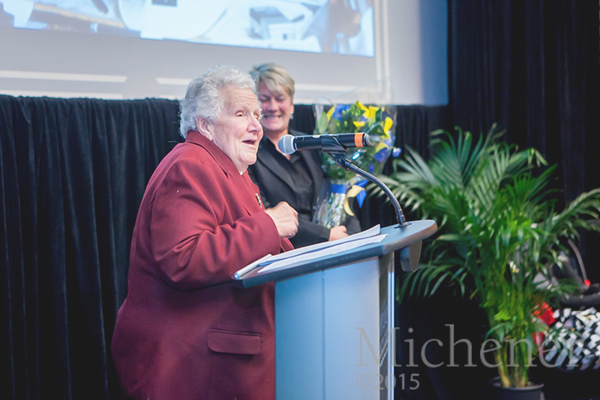 Dr. Diana Schatz, who started what became The Michener Institute in the basement of Toronto General Hospital in 1958, exemplifies this very notion.
"Dr. Schatz was ahead of her time," said Michener's President and CEO Maureen Adamson, who played Master of Ceremonies for the evening. "She envisioned an academic institute that would develop well-educated, technologically proficient professionals who were ready to meet the changing health system needs of the day."
Maureen noted this as Michener heads towards integration with UHN, a notable first-of-its-kind–in-Canada partnership, where a school will be embedded in a hospital.
"This was Diana's vision all along," added Maureen. "To teach in the context of clinical practice, so students become professionals with confidence."
"Dr. Schatz transformed things," said Dr. Hodges to students. "My challenge for you is to ask yourselves how you're going to carry that on."
Bringing together donors and students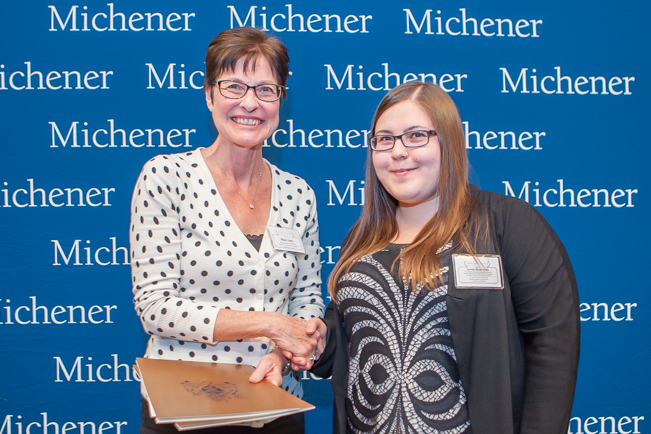 "This evening is an opportunity for us to acknowledge the support of our donors, as well as to remember family members, friends and colleagues through memorial scholarships and awards," said Dr. Bob Howard, President and CEO of St. Michael's Hospital and Chair of Michener's Board of Governors.
The ceremony was an opportunity for many of the award recipients to meet their benefactors, many of whom are Michener alumni or members of the professions students will soon enter into.
"The Michener Institute is an extremely important part of my life," said Dr. Winston Isaac, a 1973 graduate from the Respiratory Therapy program and donor of the Dr. Winston Isaac Scholarship in Respiratory Therapy. "It has served me well in my life, and that's why I want to give back."
The 2015 ceremony saw 37 scholarships, awards and bursaries awarded to 45 students. Thanks to the generosity of the donor community and in recognition of the exceptional performance of students, Michener awarded over $70,000 in scholarships, bursaries and awards.
"It's an incredible honour to be recognized with the awards," said Danielle Nicole Grohn, a third-year medical laboratory science student who was the recipient of six awards, including the President's Award. "I feel incredibly grateful."