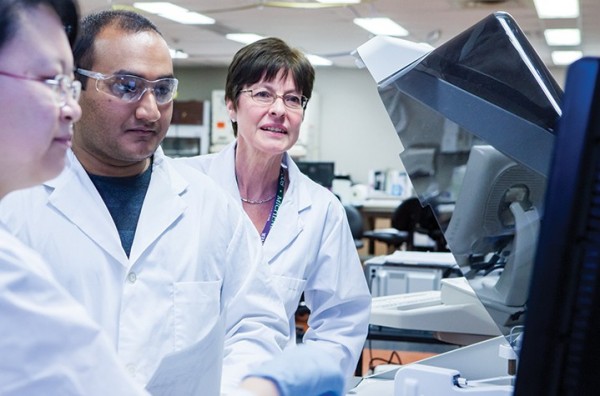 Future health care professionals must understand the obligation to provide optimal treatment and to ensure patients' safety and well-being at all times. However, there is not a lot of room for error in the health care field; so naturally, performance anxiety is very common among students. So how can we minimize the anxiety, without compromising the safety of the patient? The answer is simulation-based learning.
A ground-breaking study by a Michener faculty member has confirmed the value of simulation in the classroom. Michener's own Mary Emes, Professor of Medical Laboratory Science, will have her research on the subject published in renowned periodical The Canadian Journal of Medical Laboratory Science (CJMLS) this coming fall.
Titled Student Confidence in Performing Transfusion Science Competencies Following Participation in a Simulated Clinical Laboratory, Professor Emes' research examines confidence levels of students both before and after simulation training.
"The aim of the research study was to assess and compare student confidence in performing the required CSMLS Transfusion Science competencies before and after participation in a simulated laboratory semester," she explains, "After simulation, 96 per cent of students reported they were very confident or somewhat confident. This almost three-fold increase in confidence levels was measured at a robust level of statistical significance."
The outcome of this research study showed that simulation-based education is very effective as a learning tool to enhance student confidence in performing the required competencies within their respective health care field.
These findings validate Michener's leadership role in health care education and the field of simulation training.
"At Michener, the MLS simulation program continues to evolve to enhance student learning and better prepare students to face the challenges of a 'real' clinical lab," Professor Emes explains. "The results of this research offer us insight into the legitimacy of our current curriculum and motivate us to improve and enhance the simulation learning environment."