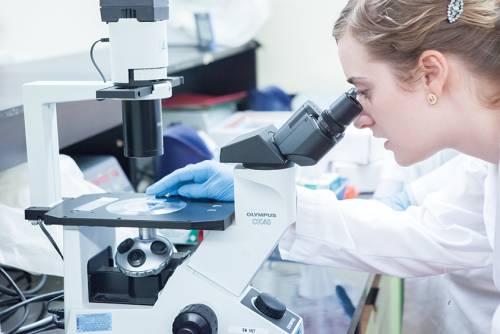 The direction health care delivery is taking requires health care professionals to be more nimble than ever, and as we move toward integration, The Michener Institute and University Health Network are ensuring new health professionals stay ahead of the curve.
Among the most revolutionary changes to how health care services are delivered to patients is personalized medicine, where diagnostic testing provides genetic, molecular and cellular information that guides medical decisions tailored to the individual patient. For example, responsiveness to medications varies depending on a person's genetic make-up. Any particular attention deficit medicine, cancer drug or antidepressant only works as intended for a fraction of patients, according to a 2014 study from the University of Illinois at Chicago. Knowing your genetic make-up helps determine which medications are likely to be most effective, and can save the patient considerable time and trouble.
"We're moving into a world of genomic and regenerative medicine … a totally different world where we will see the parents of a newborn go home from the hospital with a genomic blueprint: a detailed assessment of an entire whole genome sequencing of their baby, and a care plan – a life plan for that child," said Dr. Peter Pisters, President and CEO of University Health Network at a recent Town Hall meeting at Michener.
Dr. Pisters referenced personalized medicine in the context of how integration between UHN and Michener will create new spheres of education to prepare us as the genomic sequencing, regenerative medicine and other technologies that seem at the edge of science today become common practice tomorrow.
"We are here to fulfill a moral obligation to society … to stamp out diseases like cancer and heart disease, to create innovation and discovery. We cannot do that without sophisticated educational programs," says Dr. Pisters.
What this means in practice is the health system needs hybrid health technology professions. Michener has begun down that path by redesigning its Nuclear Medicine and Molecular Imaging Technology program curricula, a joint program with the University of Toronto, to encompass the changing practices and technology in the field. Dr. Ann Russell, Senior Director for Learning, Innovation and Applied Educational Research, says while Michener's genetics program was already at the cutting edge, Michener anticipated the need to break down silos and cross-train Medical Laboratory and Diagnostic Cytology students to shape the future of the profession.
Dr. Russell adds that Michener's academic leadership is engaging their professional association and connecting with whoever is required to drive the dialogue on professional recalibration in order to rewrite the competency profiles for health professions most impacted by these changes in technology.
"We partner with our technology partners, drive the discourse at professional association level, and bring together thought and practice leaders in the professions to lead change. And at the Centre for Learning and Innovation, we use our model of education design to implement the changes required to meet practice-based challenges from a curriculum perspective."
Michener is also preparing for the increased number of health professionals required as a result of personalized medicine. During a Big Ideas conference series talk at Michener in 2014, Dr. Peter Bridge – Academic Chair of Medical Laboratory Sciences – described a quadrillion-fold increase in genetic testing capacity since the Human Genome Project wrapped up in 2004. The technology has improved and is now available for commercial use at a much lower cost than in the past. The first human genome sequence cost an estimated $3 billion and took over 13 years. Just a few years ago it was down to $1,000 for a day's work, and today it's down to $250.
Dr. Bridge says the last three graduating classes in genetics technology have all been cross-trained in genomic sequencing as well, but this represents just over 40 students. However, starting with the graduating classes of 2017, the more than 80 graduates per year from the three Medical Laboratory Sciences programs at Michener will be entering the workforce with this advanced knowledge, and will be well poised for this health care delivery transformation.