Nuclear Medicine & Molecular Imaging Technology: University of Toronto Joint Program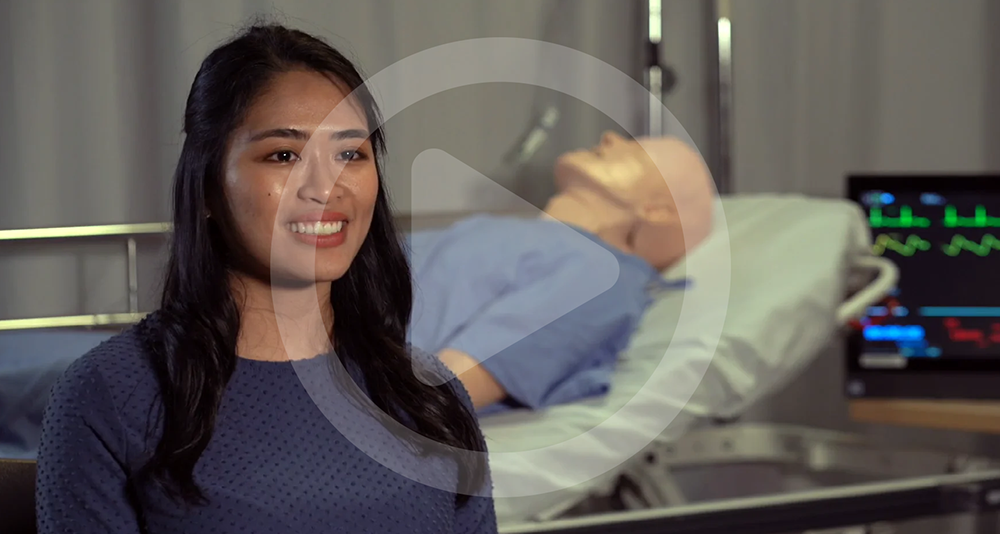 Program at a glance:
Credential Earned: Bachelor of Science in Medical Radiation Sciences from the University of Toronto and Advanced Diploma from The Michener Institute of Education at UHN
---
Program Length: 3 Years (Full-Time)
---
Program Delivery: On site (University of Toronto's St. George Campus and Michener's St. Patrick Campus)
---
Start Date: September 2022
---
Application Deadline: February 1, 2022
---
Program Code: TRN
---
About the Program
The Nuclear Medicine & Molecular Imaging Technology Program (NMMIT) is a joint educational program offered through the University of Toronto and The Michener Institute of Education at UHN.  The program is designed using hybrid delivery of course curriculum, which gives students a well-balanced approach to learning by participating in both online and in-person educational experiences with instructors, peers and clinical educators.
Theory is put into practice by examining increasingly complex case studies and applying knowledge in both simulated and clinical environments. NMMIT allows students to experience all aspects of the profession, including:
Preparing radiopharmaceuticals and handling radioactivity in Michener's radiopharmacy lab
Imaging using gamma cameras
Single-Photon Emission Computed Tomography (SPECT)/ Computed tomography (CT)
Bone Mineral Densitometry (BMD) scanners
Providing patient care with simulated patient actors
Research opportunities
Exploration of emerging technologies in Positron Emission Computed Tomography (PECT)/ Computed tomography (CT)
Theranostics
Interprofessional collaboration
Graduates are eligible to write the national certification examination conducted by the Canadian Association of Medical Radiation Technologists (CAMRT). Certification qualifies graduates to work across Canada and allows them to apply for registration as a radiological technologist with the College of Medical Radiation and Imaging Technologists of Ontario (CMRITO).
The NMMIT program is accredited by Accreditation Canada . Accreditation is a quality improvement process that ensures educational programs meet national standards and that students acquire the knowledge, skills, and competencies for safe and effective care at entry to practice.
"The program provided me with a comprehensive understanding of classroom material, enabling me to apply theoretical skills and knowledge in the laboratory and clinical setting."
Take a Nuclear Medicine & Molecular Imaging Technology Virtual Tour
Visit the U of T website for application information
Admission Requirements
Nuclear Medicine Technologists are highly detail orientated and complete technical skills in a compassionate, patient-focused model of care with a central focus on radiation safety for patients and staff. They use minimally invasive diagnostic procedures, involving specialized instrumentation in combination with targeted imaging agents to visualize biochemical events at the cellular and molecular level, to help identify regions of pathology and potential mechanisms of disease.
This unique branch of diagnostic imaging allows for improved patient quality of care by reducing the pain, trauma and risk associated with invasive surgery that patients may otherwise undergo to reach their diagnosis.  Further advancements in science continue to lead to development of new areas of practice in the field, such as Positron Emission Tomography (PET), radionuclide therapies and theranostics.
After completing the Nuclear Medicine program, graduates are employed in a variety of clinical environments including community or teaching hospitals, independent health facilities, research institutes, public health institutions, regulatory bodies, radiation safety, commercial radiopharmacies, in education and in medical imaging equipment sales or computer applications.
When you enroll in the NMMI program, you will begin by learning both in the classroom and in Michener's simulated lab setting the instrumentation, radiopharmaceuticals and safe handling of radioactivity that is required to perform nuclear medicine procedures. You will progress through the nuclear medicine integrated core courses to learn the specific diagnostic and therapeutic procedures that are performed on patients. This is done first in the lab and then followed by a combination of both part-time and full-time clinical experiences to help consolidate knowledge and understanding.
The simulated lab environment allows you to practice in a safe learning environment working with a small number of students and directly one-on-one with your instructors.  Here you will perform a wide range of specialized techniques for the preparation and administration of radiopharmaceuticals using different routes such as intravenous, oral, inhalation, subcutaneous and intramuscular, how to perform molecular imaging using the nuclear medicine dedicated gamma cameras and how to explain imaging procedures to the patient and answering questions. This will ensure that you are ready when at your clinical placement.
For detailed course descriptions please see the UofT Nuclear Medicine & Molecular Imaging Program page.
Length: 48 weeks
6 week-long rotations in Year 2
12 weeks at the end of Year 2
30 weeks in Year 3
In the second year of the program, you will complete a part-time clinical placement at a Greater Toronto/Hamilton Area (GTHA) affiliated clinical site for 3 weeks during both Fall and Winter semesters to integrate your didactic learning with hands-on clinical experience. In your final year of the program, you will complete your full-time clinical placement at any one of our affiliated clinical sites in Ontario for three full semesters starting with the second-year summer semester, followed by the Fall and Winter semesters in your third year of study. During this final clinical experience, you will be placed at the same base site for three full semesters.
As clinical education is a major component of all Michener programs, our affiliated clinical sites are integral to your education, and they include teaching and community hospitals as well as Independent Health Facilities (IHF's). Working closely under the supervision of Nuclear Medicine Technologists, you will have the opportunity to integrate knowledge and skills into practice during the clinical phase of your program. Clinical placements give you hands-on experience in work environments and the opportunity to network with potential employers.
For more information about Clinical Education, please see Michener's Clinical Education Model page.
Textbooks
Scholarship&Bursaries
Tuition