To help transform the mindset of the healthcare community, the project team is putting together a series of symposia on different topics relating to AI in healthcare.
Upcoming
Check back soon or join our mailing list for updates.
Past
Date: Thursday, April 29th, 2021 at 11-2pm EST
Location: Virtual
Hosted by: Michener Institute of Education at UHN, Vector Institute , IVADO
Supported by: Future Skills Centre
This inaugural Symposium aims to explore the theme building collaboration for deeper learning and better care. The event will feature a panel discussion, highlighting the expertise of those working with AI from across the country. Panelists will share their experiences with AI implementation and adoption into practice, followed by an interactive discussion and Q&A from Symposium attendees.
The objectives are to:
Engage in a national dialogue on AI adoption in healthcare
Promote AI innovation in Canadian healthcare
Discuss leveraging AI to provide compassionate and high quality care
Who Should Attend
Healthcare providers, leaders, researchers
Champions of AI implementation
Healthcare policy makers
Healthcare industry partners
Keynote Speaker: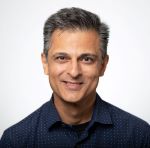 Muhammad Mamdani, PharmD, MA, MPH
Vice President – Data Science and Advanced Analytics at Unity Health Toronto
The Odette Chair in Advanced Analytics
Faculty Affiliate – The Vector Institute
Professor, University of Toronto
Dr. Mamdani is Vice President of Data Science and Advanced Analytics at Unity Health Toronto. Dr. Mamdani's team bridges advanced analytics including machine learning with clinical and management decision making to improve patient outcomes and hospital efficiency. Dr. Mamdani is also Professor in the Department of Medicine of the Faculty of Medicine, the Leslie Dan Faculty of Pharmacy, and the Institute of Health Policy, Management and Evaluation of the Dalla Lana Faculty of Public Health. He is also adjunct Senior Scientist at the Institute for Clinical Evaluative Sciences (ICES) and a Faculty Affiliate of the Vector Institute, which is a leading institution for artificial intelligence research in Canada.
Dr. Mamdani holds a Doctor of Pharmacy degree from the University of Michigan, a fellowship in pharmacoeconomics from the Detroit Medical Centre, a Master of Arts degree in econometric theory from Wayne State University, and a Master of Public Health from Harvard University with a focus on statistics and epidemiology. He has previously been named among Canada's Top 40 under 40. Dr. Mamdani's research interests include pharmacoepidemiology, pharmacoeconomics, drug policy, and the application of advanced analytics approaches to clinical problems and health policy decision-making. He has published nearly 500 studies in peer-reviewed healthcare journals.
Panelists: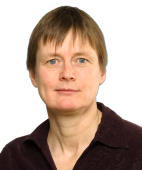 Anne Martel, PhD
Sunnybrook Research Institute
University of Toronto
Vector Institute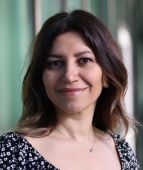 Aline Talhouk, PhD
University of British Columbia
OVCARE
Michael Smith Foundation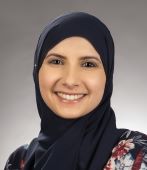 Kathy Malas, M.P.O., GCHIthMgt
CHUM – Centre hospitalier de l'Universite de Montreal
CRCHUM – Centre de Recherche du CHUM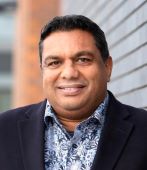 Reg Joseph, BSc, MBA
Health City