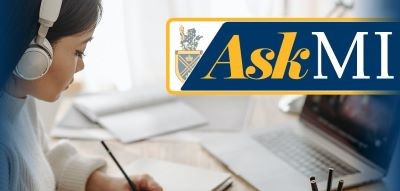 We are unable to offer in-person information sessions and campus visits at this time. Please use our
online drop-in services
to consult with our admissions staff.
Contact us today – we would be happy to hear from you.
The Michener Institute of Education at UHN
222 St. Patrick Street
Toronto, Ontario, Canada M5T 1V4
Phone
: (416) 596-3101
Toll Free:
1-800-387-9066 (within Canada, outside the Greater Toronto Area)
Email: For admissions and applications to programs, email admissions@michener.ca
For registration, records, fees and financial aid, email regoffice@michener.ca

The easiest means of reaching Michener are:
Public Transit (TTC). We're a short walk north-west of St. Patrick station, on the University subway line, or you can take the College or Dundas streetcars and exit at McCaul Street.
GO Transit. If you're coming from outside Toronto, take the GO train to Union station then take the University subway line north to St. Patrick station. Michener students are eligible for discounted travel with a GO Transit ID card; contact the Registrar's Office for details.
Cars & Bicycles. Student parking is not available on campus, but privately owned pay parking lots are located nearby. Bicycles may be stored in Michener's garage for an annual, non-refundable charge. Contact Finance for bicycle parking rates and details.
From the West End of Toronto:
Take QUEEN ELIZABETH WAY
QUEEN ELIZABETH WAY becomes GARDINER EXPY – go 6.4 km
Take ramp – go 0.6 km
Turn left on SPADINA AVE – go 1.6 km
Turn right on DUNDAS ST W – go 0.5 km
Turn left on MCCAUL ST – go 0.2 km
Turn right on ELM ST – go 0.2 km
Turn right on ST PATRICK ST – go < 0.1 km
Arrive at 222 ST PATRICK ST, TORONTO
From the East End of Toronto:
Take DON VALLEY PKY South
Take the BAYVIEW AVE./BLOOR ST. exit – go 1.4 km
Head left on CASTLE FRANK RD – go 0.2 km
Turn right on BLOOR ST – go 2.3 km
Turn left on UNIVERSITY AVE – go 1.4 km
Turn right on ELM ST – go 0.2 km
Turn left on ST PATRICK ST – go < 0.1 km
Arrive at 222 ST PATRICK ST, TORONTO