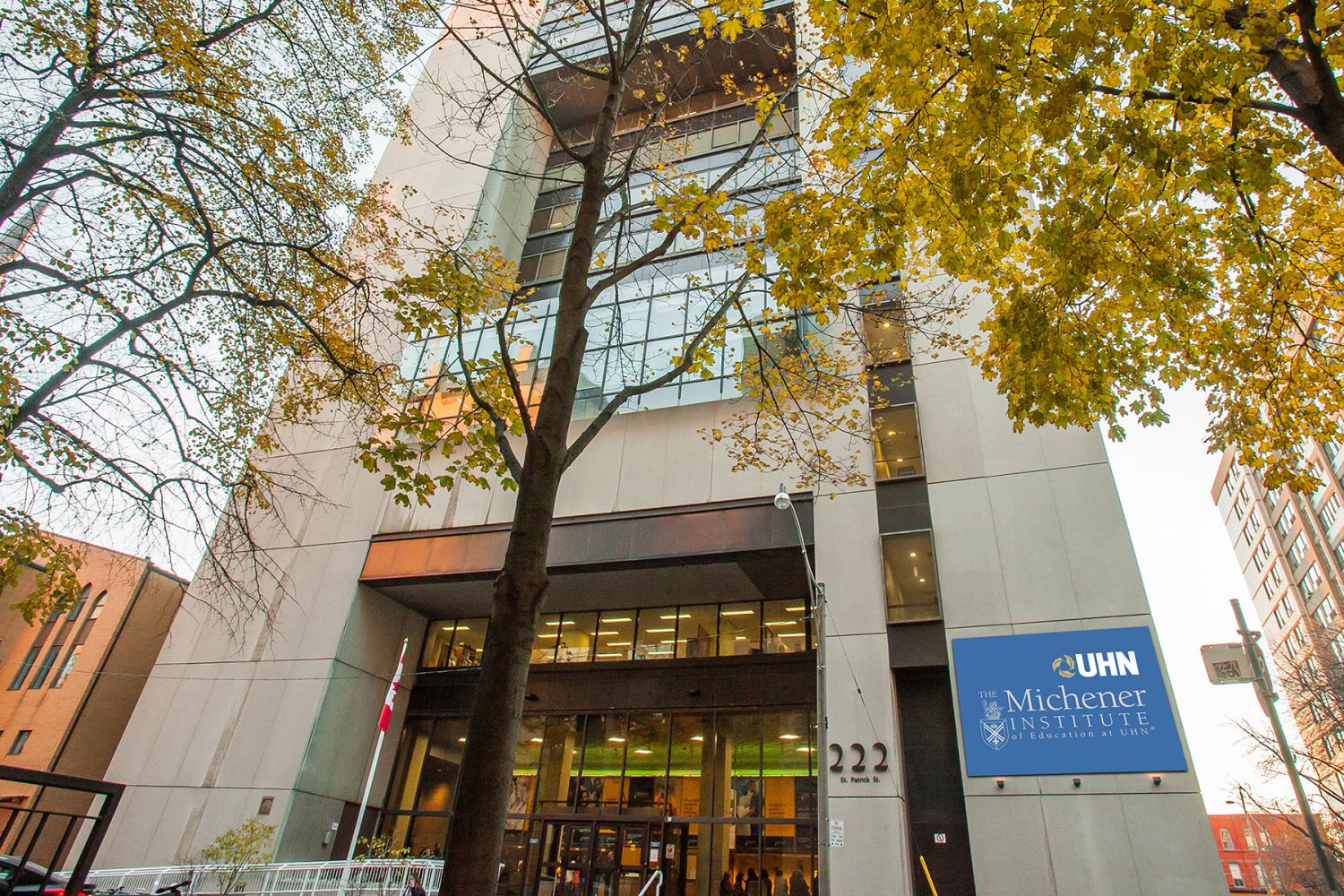 The Michener Institute of Education at UHN
, initially known as the Toronto Institute of Medical Technology and later The Michener Institute of Applied Health Sciences, was created in response to the educational requirements of health sciences professionals and to the continuing education needs of health care practitioners.
The Michener Institute's history of innovation goes back to 1958 with a Medical Laboratory Technology pilot program at Toronto General Hospital and it was Diana Michener Schatz who was instrumental in founding the institution.
Dr. Schatz developed a three-pronged approach to applied education, paying particular attention to the practical and clinical components of education by negotiating clinical arrangements with various sites to provide students with the most effective learning experience. Her vision emerged from her work as a clinical chemist at Toronto General Hospital.
The original program of Medical Laboratory Technology evolved from a multi-discipline approach to an integrated systems format. Since that time, most programs in Canada have emulated the pattern set by The Michener Institute.
Formal classes were started in temporary quarters in 1966 with the financial support of the Ontario Ministry of Health. In 1972, the institution moved to its present location at 222 St. Patrick Street in downtown Toronto, which is close to many major teaching hospitals. In 1990, the name was changed to The Michener Institute to honour the late Governor General, Roland Michener.
In the past 60 years, Michener has grown extensively. In 2006, the curriculum evolved to include simulation and interprofessional education courses, as well as clinical readiness assessments for each student. Current partnerships, including the University of Toronto, Dalhousie University and the University of Ontario Institute of Technology, have allowed Michener to branch out academically in the past two decades.
In 2016, Michener and University Health Network officially signed an agreement to integrate by means of a shared governance agreement. This Canadian-first, "Made in Ontario" Mayo Clinic model brought together a diploma-granting health care education institution with an academic health sciences network within a single organization. By integrating with the country's largest teaching hospital network, Michener was able to plug a critical health system gap. We now have a confirmed, vital role to play in planning and preparing for the health system needs of the future.
Please take a look at our interactive timeline
Chronology
2021
Launch of Michener's new Digital Health & Data Analytics program
Michener awards its first MyHealth Award for an Outstanding Black Student
COVID Care Learning platform development team receives the 2021 Ted Freedman Award for Innovation in Education
Michener becomes first Canadian school to offer a Master's degree in Cardiovascular Perfusion
2020
Michener-led team creates COVID Care Learning platform
All programs switch to virtual delivery due to the Covid-19 pandemic
In partnership with Vector Institute, Michener receives a two-year, $1/52 million grant from Future Skills Canada to embed AI in patient care with compassion
Michener's founder, Dr. Diana Schatz, passes away on October 24, 2020
Michener welcomes its first Principal of the School of Applied Health Sciences, Harvey Weingarten
2019
Michener's founder, Dr. Diana Schatz, receives the 2019 UHN Global Impact Award
Michener says farewell to its outgoing Chair of The Michener Institute of Education at UHN's Board of Governors and UHN Education Committee Cliff Nordal
Michener awards the Governor General's Collegiate Bronze Medal for the first time
2018
Dr. Kevin Smith is welcomed as UHN's President and CEO
Michener celebrates its 60th anniversary with a kick-off event and official unveiling of the new St. Patrick campus lobby redesign
2017
Dr. Peter Pisters, UHN's past president and CEO, moves on to a new position as President of MD Anderson in Texas. Dr. Charlie Chan, UHN's EVP of Clinical Programs, steps in as interim President and CEO.
The Ontario Ministry of Health and Long Term Care asks Michener to partner with them to create a Personal Support Worker (PSW) registry
The Royal College of Physicians and Surgeons of Canada grants The Michener Institute status as an accredited continuing professional development (CPD) provider
Michener's Anesthesia Assistant program becomes the first program to be accredited in Canada
Installation of The Michael Sharpe Treatment Planning Learning Facility
Michener's Alumni Association celebrates its 20 year anniversary
Michener welcomes the addition the telesimulation lab and some key staff and researchers from the Temerty/Chang Telesimulation Centre.
2016
The Michener Institute integrates with University Health Network to become The Michener Institute of Education at UHN
Following the UHN and Michener integration, a new Board of Governors is formed. The Board of Governors also serves as the UHN Board Education Committee of the UHN Board of Trustees, which provides strategic guidance and leadership to the Boards of UHN and Michener.
2014 
Michener partners with Elekta to advance radiation therapy simulation with the addition of Clarity
Michener is recognized as a GTA Top Employer for the seventh year in a row
Dr. Samir Sinha is Michener's Honorary Diploma recipient
Michener welcomes Maureen Adamson as Michener's new President and CEO
Michener adds Working with Seniors and Quality Improvement curricula to simulation semester to help better prepare students for the changing healthcare environment
Michener launches new CE partnership with CANM
2013 
Michener is recognized as a GTA Top Employer for the sixth year in a row
Michener CASE partners with SIM-one
Michener hosts the OAMRS Central Section Education Day
2011 
Michener participates in Doors Open Toronto for the third year and is featured as one of the top buildings to visit in a Globe & Mail special pull-out
Dr. Vivek Goel is Michener's honorary diploma recipient
2010
Launch of the PA Consortium's Physician Assistant program with the University of Toronto and the Northern Ontario School of Medicine
Opening of GE Healthcare- Michener Advanced CT Imaging Centre of Excellence
Grand Opening of the CAE/Michener Centre for the Advancement of Simulation and Education
Michener is asked to participate in Doors Open Toronto for the second time
The Michener Chiropody Clinic opens on-site on Michener's campus
Dr. Marlene Scardamalia is Michener's Honorary Diploma recipient
2009 
Ground breaking of The Campaign for Michener: Stronger. Smarter. Better.
Michener aligns with CAE to build the CAE/Michener Centre for the Advancement of Simulation and Education
2008
First issue of the new publication Michener Magazine released
Launch of the first simulated clinical semester, Michener Simulated Health Care Network
Mrs. Sonja Bata & Dr. Donald T. Stuss are Michener's honorary diploma recipients
Michener celebrates its 50th Anniversary
Michener and Cryos Technologies establish an educational alliance that will enhance the simulation ­education of Ontario's Chiropody students by using Biovizion equipment
2007
The Michener Institute named one of Toronto's Top 50 Employers
The Michener Institute receives second nod as a top contender for Conference Board of Canada/Spencer Stuart National Awards in Governance
Introduction of the Michener Senate
Unveiling of an integrated Magnetic Resonance Imaging (MRI) and Computer Tomography (CT) Suite
Chiropody Faculty share their expertise with the public at The Bata Shoe Museum's Healthy Feet Exhibit
Michener and IMAC sign historic partnership and launch e-Health Rcord Sytem in applied health education
Dr. Amitai Ziv is MIchener's Honorary Diploma recipient
2006
The Michener Institute receives nod as a top contender for Conference Board of Canada/Spencer Stuart National Awards in Governance
Michener establishes an educational alliance with Sorin Group Canada Launch of the Anesthesia Assistant Program
Introduction of New Curriculum incorporating three new educational philosophies: Interprofessional education, Simulation enhanced education and Health care competency
assessment
Dr. Robert Byrick and Dr. Daniel Klass are Michener's Honorary Diploma recipients
2005
Launch of Student Viewbook I CD-ROM
Dr. David Naylor is Michener's Honorary Diploma recipient
2004
Unveiling of the Philips Medical Systems Radiation Therapy Treatment Planning Laboratory
Sheela V. Basrur is Michener's Honorary Diploma recipient
2003
Dr. Renate Krakauer retires and Dr. Paul Gamble becomes Michener's third President and CEO
Partnership with Laurentian University and Cancer Care North for distance education program for Radiation Therapy
Ultrasound Program launched in Jamaica (University of the West Indies/SMRT)
Clinical Laboratory Quality and Operational Management Certificate offered in the Caribbean
Program in Echocardiography offered in Trinidad and Tobago
2002
Degree/diploma curriculum for Acupuncture Program with Charles Sturt University in Australia created
Foreign-Trained Health Care Professionals Program Partnership with University of Waterloo for degree/diploma programs in Respiratory Therapy and Chiropody
Three year HRSDC funded Canada-European mobility project launched which offers student/faculty exchanges and e-learning opportunities to students and faculty in the Radiation Sciences program.
2001
Collaborative degree/diploma program for Respiratory Therapy with Queen's University New distance education programs in Ultrasound, MRI and Vascular Technology
First educational institution in Canada to get a Picture Archiving and Communication System (PACS)
2000
Launch of the Assisted Reproductive Technology advanced diploma program, first in North America Acupuncture clinic opened in conjunction with Mount Sinai Hospital's Pain Clinic
Applied Biotechnology advanced diploma program introduced
Workshops presented in Mechanical Ventilation and Cardiovascular Perfusion in Chennai, India
Programs in Asthma Education, Diabetes Education and Disaster Management Planning run in Trinidad and Tobago
Ultrasound Program offered in Bangladesh
Four-year ACCC/CIDA funded partnership program to provide medical laboratory technology ultrasound and echocardiography education to existing health personnel in the Palestinian
refugee camps located around Lebanon.
1999
Canada's first Radiation Sciences degree/diploma program introduced with University of Toronto (includes Nuclear Medicine Technology, Radiation Therapy and Radiological Technology)
Radiation Therapy laboratory completed
Advanced Care Paramedic diploma program offered Toronto Centre for Acupuncture opened at Michener Ultrasound Program offered in South Africa
1998
Introduction of the Genetics Technology advanced diploma program, integrating Cytogenetics and Molecular Genetics programs
Ultrasound Program offered in Trinidad (NIHERST)
1997
Michener Alumni Association formed
First comprehensive four-year Acupuncture program in Canada launched Post-Diploma MRI program begins
1996
Articulation agreement for health sciences degrees in Medical Imaging, Laboratory Sciences and Biotechnology signed with Charles Sturt University in Australia
Post-Diploma Asthma Education and Sleep Medicine Technology (Polysomnography) certificate programs introduced, first in Canada
1994
Dr. Diana Schatz, Michener's first Executive Director, retires and Dr. Renate Krakauer begins her tenure
Post-Diploma Vascular Technology program offered
Degree completion in Health Services Management offered through Ryerson Polytechnic University
1993
Post-Diploma Molecular Genetics program introduced
Post-Diploma Anesthesia Technology program announced Diploma programs extended to three years
1991
Opening of Schatz Hall, a 47 unit student residences and centre
Post-Diploma program in Immunoassay launched
1990
Name changed to The Michener Institute for Applied Health Sciences after the Right Honourable Governor General Roland Michener
Established satellite program in Respiratory Therapy in cooperation with Canadore College to meet needs in Northern Ontario
1989
Post-Diploma Program in Neonatology launched
1988
Post-Diploma Program in Echocardiography offered
Research Department established with mandate to identify emerging trends in health care and develop new programs to meet changing needs
Curriculum development in Radiography and Cytogenetics Programs for Higher Colleges of Technology in United Arab Emirates
Partnership with Toronto Hospital, Mount Sinai Hospital, and George Brown College in workplace day care centres
1987
First Honorary Diploma awarded to Right Honourable Roland Michener
1984
Introduction of the Advanced Care Paramedic program
1981
Chiropody Program introduced in cooperation with George Brown College and Toronto General Hospital, first in Canada
1979
Post-Diploma programs in Immunology, Ultrasound and Virology Post-Diploma Program in Cardiovascular Perfusion
1978
First Continuing Education Traveling Workshops for northern and rural Ontario
1977
Post-Diploma Cytogenetics Program, first in North America launched
1976
Anesthesia Residents Training Program introduced
1974
Launch of the Laboratory Assistant program
1972
Opening of building at 222 St. Patrick Street
Nuclear Medicine and Cytotechnology Programs, first in Ontario
1969
Respiratory Therapy program introduced
1968
Radiography program launched
1967
Toronto Institute of Medical Technology incorporated
1963
Pilot program extended to 12 teaching hospitals
1961
 Continuing Education Programs started
1958
Medical Laboratory Technology pilot program started at Toronto General Hospital