May is Foot Health Month and the Michener chiropody program is raising awareness of proper foot care and good foot health.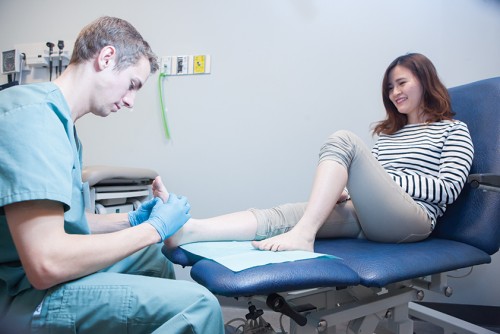 Healthy feet are important to the overall health of people with diabetes, but foot problems remain a major health concern. People with diabetes often experience poor blood flow (arterial insufficiency) and nerve damage (neuropathy) as a result of the disease, which can pose serious health risks to their feet.
Any number of foot problems, including ulcers and infections, are a significant cause of morbidity and mortality in people with diabetes. It is estimated that 15 per cent of patients with diabetes will develop a foot ulcer in their lifetime. Furthermore, half of all lower limb amputations in Ontario are directly related to diabetes.
Once diagnosed with diabetes, it is strongly recommended that an individual has a diabetic foot assessment to receive personalized diabetic foot care advice and, if required, professional foot care.
The Clinical Practice Guidelines for the Prevention and Management of Diabetes in Canada from the Canadian Diabetes Association recommends annual foot examinations to reduce the risk of foot complications for people with diabetes. More frequent examinations are recommended for patients at a high risk of ulcerations and amputations.
If you have diabetes, simple practices can prevent you from having to face devastating consequences in the future.
Taking care of your feet with diabetes
Diabetes can cause nerve damage and poor blood flow in your feet, potentially impairing the healing process of cuts and sores.
Here are some tips from Michener's chiropody program to help prevent these complications:
Monitor your Diabetes
Work closely with your health care team to keep your blood sugar within a good range.
Check your feet every day
Check your feet daily for dry and cracked skin, blisters, bruises, cuts or sores. See a chiropodist if your injury is not healing or is infected.
Wear shoes and socks at all times to protect your feet from injury
Before you put them on, always check the inside of your shoes to ensure the lining is smooth and there are no pebbles or anything that can hurt your feet.
Wear shoes that are comfortable and fit well when you buy them. Never buy shoes that are too tight and wait for them to stretch.
Ask your chiropodist or podiatrist about special shoes that can give your feet more room. When you get new shoes, break them in slowly. Wear them one or two hours a day for the first one or two weeks.
Wear clean, dry socks or non-binding pantyhose every day to protect your feet. Avoid socks with seams. If you have neuropathy, check your socks when you remove them for any bloodstains.
In cold weather, wear warm socks and do not stay out in the cold for very long. Wear clean, dry socks to bed if your feet are cold.
Protect your feet from hot and cold temperatures
Wear shoes at the beach or on hot pavement
Don't test bathwater with your feet
Refrain from using heating pads or hot water bottles on your feet
Wash your feet every day using lukewarm water and a mild soap
Do not soak your feet. Check the temperature of the water with your hands or elbow first. Gently dry your feet, especially between the toes. Use lotion on dry skin. Do NOT put lotion between your toes.
Take daily walks for 20 to 30 minutes, even if it is a slow stroll.
Consult a foot care specialist
Only patients with diabetes who meet the following criteria may be suitable to continue their own foot care:
Those who have pain-free, normal nails with no pathology
Those who can see their feet clearly and have no vision issues
Those who can reach their feet without difficulty
Those who have been taught correct nail cutting techniques by a foot health specialist
If you don't meet one or more of these criteria, consult your doctor.
Read more from Foot Health Month