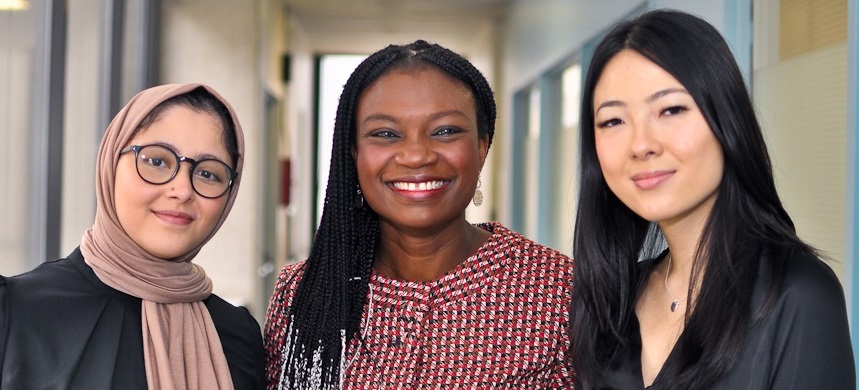 [People & Culture Team – From left: Munaza Rehman, Teni Araba, Diana Do]
People & Culture Team
Our People and Culture Team is dedicated to delivering the best customer service to both internal and external stakeholders. Our team is always available to help you with whatever your needs may be.
People and Culture contributes expertise in organizational development, employee relation, talent acquisition, diversity and mediation services, OH and Union relations. Our team will ensure you have the smoothest on-boarding experience at Michener.
Michener's Diversity, Inclusion, Values & Equity Committee (DIVE)
The DIVE Committee strives to create a safe, inclusive, accessible and welcoming space at Michener. Our goal is to support and empower people to bring their full selves to the workplace every day. We welcome everyone regardless of race, ethnic group, socioeconomic status, sex, gender identity, sexual orientation, ability, language, religion or age.
Leadership & Governance
Meet the executive team at Michener and learn more about our Board of Governors. We also encourage you to view our organizational chart to see Michener's team structure.

The chart shows the organizational structure of The Michener Institute of Education at UHN
President & Chief Executive Officer: Dr. Kevin Smith
EVP Education & Chief Medical Officer: Dr. Brian Hodges
Reporting to the President and EVP Education & Chief Medical Officer:
Principal: Dr. Harvey Weingarten
Reports to EVP Education & Chief Medical Officer:
Senior Director, Strategic Initiatives and Partnerships: Andrea Etherington
Reporting to Principal:
Senior Director, Infrastructure & Academic Linkages: Karen Chaiton
Head of Academic Affairs & Operations: Fiona Cherryman
Interim Director, Marketing and Communications: Christine Davidson
Reporting to Head of Academic Affairs & Operations:
Academic Program Chair: Catherine Ladhani, Jane Mattson, Rosetta Belcastro

Academic Program, AA: Adriana Balgrove, Shannan Bernst, Mimi Li Lai, Andrea Pariselli, Clare Reimer-Dorratt, Tashana Swaby, Heather Wood

Manager, Business Development: Marc Potvin
Manager, Centre for Learning, Innovation, & Simulation: Jordan Holmes
Manager, Centre for Program Review & Accreditation: Mandy Sangha
Associate Head of Academic Affairs: Lori Peppler-Beechey
Dean of Students & Director, Student Success Network & Office for Clinical Education: Raymond Nielsen
Director, Continuing Education: Jane Mattson
Reporting to Principal, Head of Academic Affairs & Operations, & Senior Director, Infrastructure & Academic Linkages:
Reporting to Associate Head of Academic Affairs:
Registrar: Miranda Cheng
Manager, Institutional Analysis & Evaluation: Lisa Slack
Reporting to Director, Student Success Network & Office for Clinical Education:
Librarian & Manager, Learning Resource Center: Juanita Richardson
SSN, Coordinator: Stephen Sebastyan
Office for Clinical Education, Coordinators: Krisha Arbour & Dia Gonzales
Accessibility & Accommodation Learning Advisor: Susanne Seinader
Reporting to Director, Continuing Education:
Manager, CE: Michelle Morgan, & Ivetka Vasil
Michener Administrative Departments:
Director, People & Culture: Teniayo Araba
Director, Finance: Garth Gayle
Director, Digital Solutions: Carrie Pajotte
Director, Facilities: Erica Tong
Preparing for your virtual Interview
Your virtual interview using Microsoft Teams:
Take a few minutes to familiarize yourself with Microsoft Teams to ensure you can join the interview on time and without disruption
Double check your Internet connection
Dress the part, just because it's online doesn't mean we won't see you
Check your mic/audio before the meeting
Do a test run
Find a quiet place to do your interview with good lighting
Answering questions:
Pace yourself
Try to remember the main point of the question and not to go off topic
Ask for the question to be repeated
Make notes on a note pad in front of you (don't use your computer or phone, it's distracting)
Ask us questions