The Michener Institute's Recognition Program celebrates our shared values and accomplishments to create a culture where our people feel valued, and that contributions are recognized in meaningful ways. One of the ways we acknowledge accomplishments are through the Values in Action Awards. Values in Action Awards recognize individuals and teams who, through specific actions go above and beyond to practice one or more of Michener's values:
We lead by example
We celebrate relationships
We create opportunities
We embody excellence
We transform lives
Two recently awarded faculty were Susan Dunington, RRT, and Professor in the Anesthesia Assistant program and Paul Smith, RRT and Professor in the Respiratory Therapy program. Alongside clinical partners and Michener colleagues, they were recognized for their contributions to the Michener Community at the Annual Values in Action Awards Lunch held in February 2015.
Celebrating Relationships: How Michener provides educational expertise and solutions for clinical partner institutions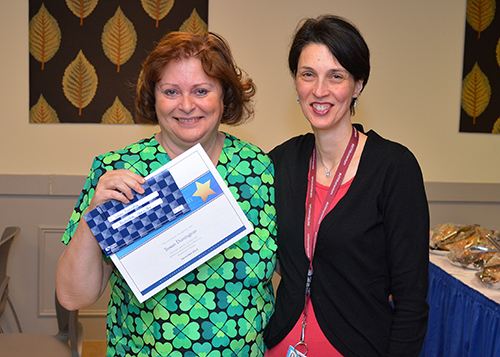 When Susan Dunington, Anesthesia Assistant professor at The Michener Institute, was approached with an opportunity to support a hospital partner, she embraced the chance to work with her clinical colleagues.
In June 2014, the Respiratory Therapy department at Humber River Hospital (HRH) in Toronto came to Michener in need of educational support. They required specialized training for staff registered respiratory therapists (RRTs) to care for operating room patients if the anaesthetist were to be called away in an emergency.
"The department manager saw an opportunity for education with the creation of a new policy to support their unique community hospital needs," says Susan. "They wanted to cross-train respiratory therapists in anaesthesia management and patient monitoring so that they would be more comfortable with the new responsibilities and environment."
Susan provided six presentations at HRH to all 45 RRT staff. She reviewed existing processes, used clinical examples to draw parallels with existing intensive care unit duties and reviewed the anesthesia equipment.
Fiona Cherryman, Chair of the Critical Care programs at Michener says that the clinical staff felt supported by Michener with the new clinical expectations at their site. At the same time, with the help of experienced faculty, Michener demonstrated its ability to be responsive and supportive of clinical partners in a truly meaningful way.
"Through experiences such as these, Michener's faculty are able to expand their role, facilitate learning and continue education," says Susan, explaining the benefits of being a resource for clinical partners. "It helps keep us up-to-date in our role as practitioners and keeps us connected to our peers."
Don Bartlett, Manager, Clinical Education Relations, applauds Susan's efforts as this is a great example of meeting the specific educational needs of a valued clinical partner and builds on a reciprocal relationship.
Transforming Lives: The interprofessional advantages of an educational institution dedicated exclusively to applied health science.
During Michener's 2014 summer simulation semester, Paul Smith, a Respiratory Therapy professor, delivered guest lectures to teach Ultrasound students about oxygen therapy.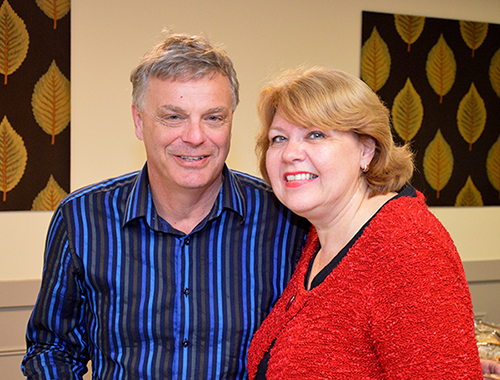 For the fifth year in a row, Paul volunteered his time to create a cross-disciplinary experience for students. He provided a lesson to Ultrasound students and showed them a simulated intensive care unit that demonstrated life support equipment.
"It's good to get perspectives from other disciplines in the hospital or clinic and talk to other practitioners," says Paul. "Students improve on their interprofessional skills which they will be able to use in their careers as healthcare providers."
The purpose of the lecture and simulated lab was to introduce the Ultrasound students to the intensive care environment prior to their clinical semester. Many of the students had never been in an intensive care unit and are glad to receive this special training.
"It is a fun experience for both me and the students," says Paul. "Students enjoy building these relationships and, for me, it is rewarding to create opportunities for them to grow professionally."