Fundamentals of Health Care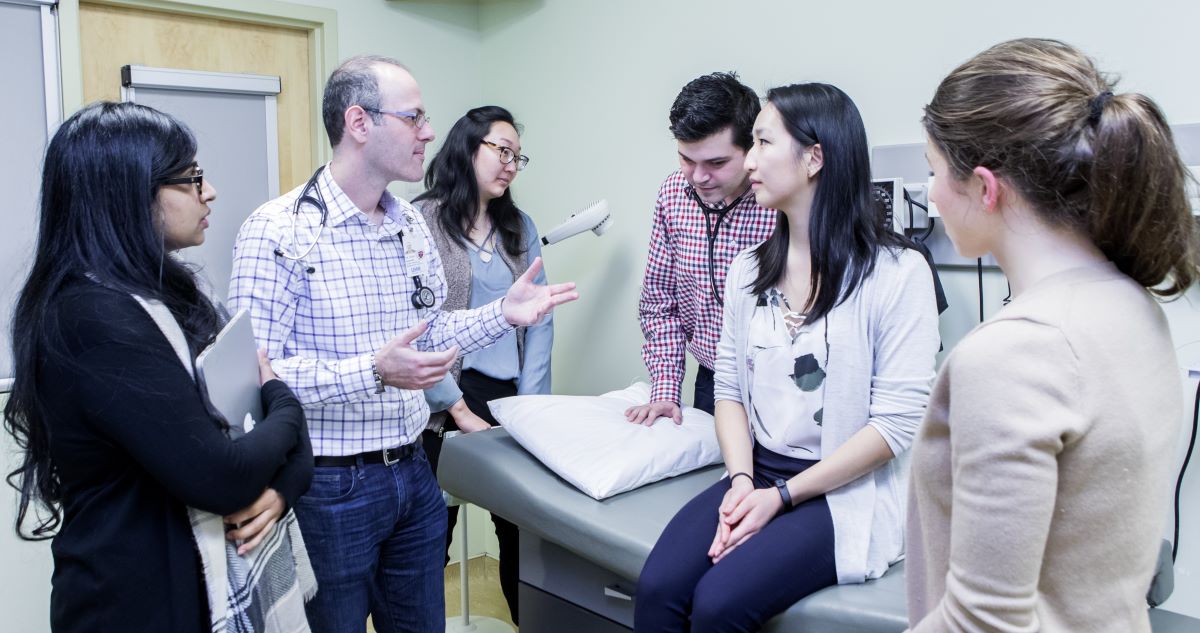 Program at a glance:
Credential Earned: DiplomaOSAP Eligible: To be confirmed – Application in progress and subject to OSAP approval
---
Program Length: 2 years / 4 semesters
---
Program Delivery: Online and In-Person based on course selection
---
Start Date: September 2024
---
Application Deadline: May 31, 2024
---
About the Program
A rapidly-evolving career for a rapidly-evolving health system
Designed to help fill the current and anticipated serious staffing shortages in our health care system, Michener's Fundamentals of Health Care diploma program offers learners a self-paced, flexible and fully customizable program to explore and prepare them for careers across the health care spectrum. Whether graduates intend to work in a health care setting or enroll in further health education, this program provides pathways to a multitude of possibilities
Developed in collaboration with University Health Network (UHN), this program can be taken full or part time. It consists of 20 courses, 8 of which are required, and students are given flexibility in the choice and sequence of the courses they take.
NEW – Several apprenticeship agreements are in development, which will offer learners the opportunity to work in the health care field while in the program.
The Michener Institute of Education at UHN recognizes that knowledge, skills and competencies can be learned through education (formal and informal), employment and other life experiences. Prior Learning Assessment and recognition (PLAR) is available to students in this program.
For more information about the Fundamentals of Health Care program, please contact admissions@michener.ca.
Apply now on ontariocolleges.ca
Admission Requirements
Consider this program if you are a/an:
High school graduate with an interest in working in health care
Student with some college or university experience, credentials or degrees with an interest in working in health care
Student looking to upgrade their knowledge and skills to make them more prepared and competitive for other health care education programs
Internationally-educated student who is seeking entry into Canada's vast health care system
Individual looking for a career change to meaningful positions in the health care sector
Over the course of four semesters, students will:
Develop a thorough understanding of the Canadian Heath Care System
Understand concepts in anatomy and physiology
Understand human body function in health and disease
Develop team based written and verbal communication that supports the interprofessional health care team
Understand and use medical terminology
Discover a wide range of health professions and their role in delivering high quality patient care in a health care system
Understand basic, supportive, and compassionate patient care
Understand navigation and coordination of patient care across acute care and community care settings
Develop Michener Competencies

be collaborators who work effectively within teams and with patients
be health system thinkers with an understanding of the healthcare eco system and the linkages to their practice or role
be reflective in their practice, value professionalism, show empathy, think critically, and commit to lifelong learning and professional development
be adaptable by responding to change and innovation within the health care system through emerging trends in their practice and the use of digital tools
This program is currently under development (the course list may be subject to change).
Chronic Disease Management
Clinical Behavioural Sciences
Community Based Health Care
Digital Health I: Empowering People
Ethics & Professionalism
Fundamentals of Leadership
Fundamentals of Patient Care
Health Care Communication
Human Anatomy and Physiology
Infection Control
Introduction to Health & Disease
Introduction to Health Care Certifications (First Aid/CPR/Mental Health First Aid)
Introduction to Health Care Professions & Interprofessional Care
Introduction to Medical Microbiology
Introduction to Public Health
Introduction to Research Methods
The Future of Work in Healthcare: Future proofing your healthcare career
The Health Care Ecosystem: Behind the Scenes (Digital Health)
Mandatory Courses
Fundamentals of Patient Care
Health Care Communication
Human Anatomy and Physiology
Infection Control
Introduction to Health Care Professions and the Interprofessional Care
The Health Care Ecosystem: Behind the Scenes
Entrance Scholarships are available for the Fundamentals of Health Care program.

General Bursaries are available for those students with demonstrated financial need (such as OSAP).
Scholarship & Bursaries
FAQs
Tuition