Magnetic Resonance Imaging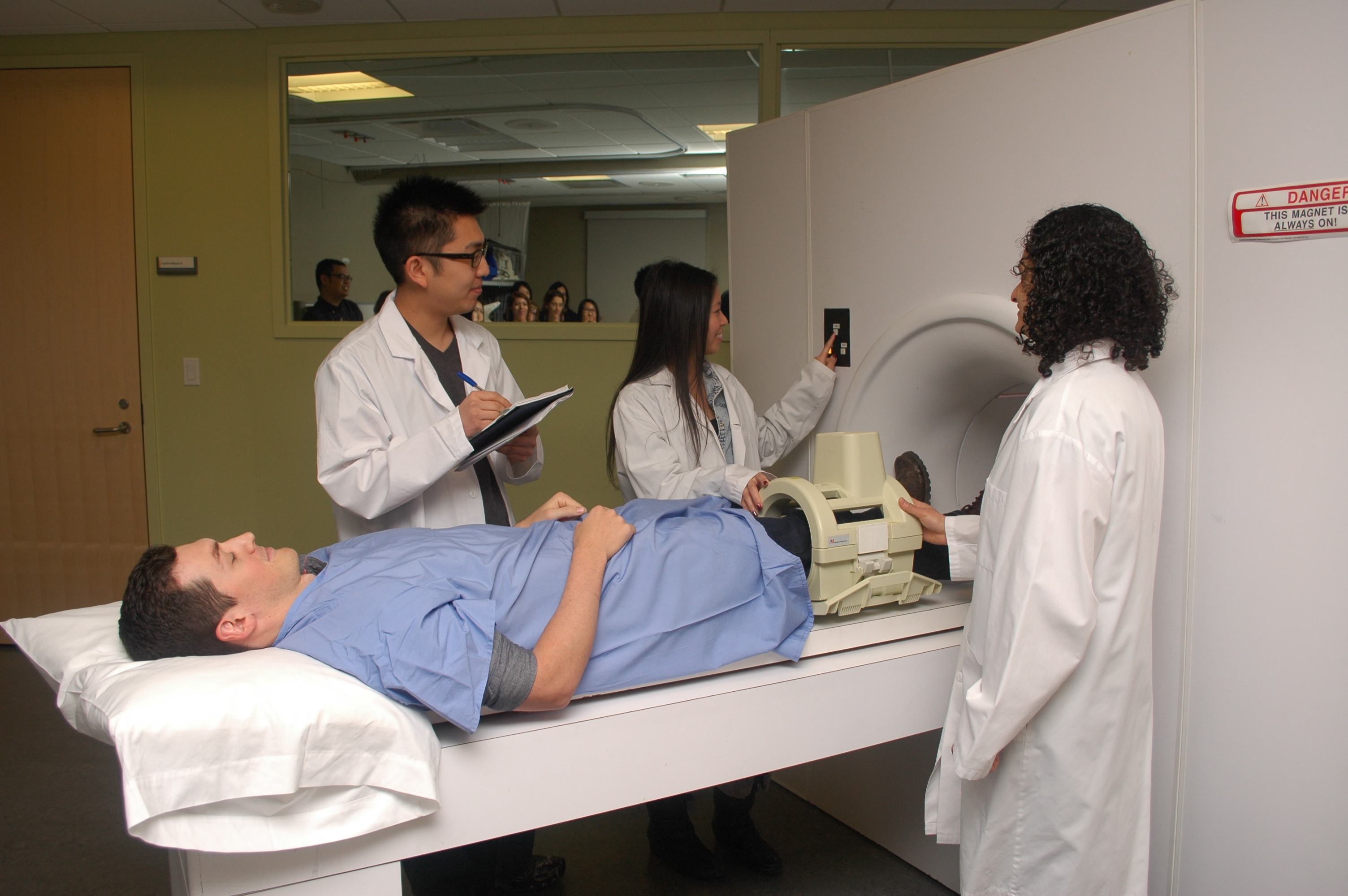 Magnetic Resonance Imaging:
at a glance
Credential(s) Earned
Graduate Certificate Program
Program Length
19-month competency based program to be completed within 3 years upon acceptance (September 2019) start. Didactic: 4 semesters (12-15 weeks each, part-time); Clinical: 1 semester (15 weeks, full-time)
Delivery Method
Part time (Online)
Start Date
September 2019
Application Deadline
June 15, 2019
Career Opportunities
MRI Technologists find rewarding careers in clinical environments such as hospitals and independent health facilities.  Other career opportunities can be found in the areas of education, sales, applications, and research.
Why the Magnetic Resonance Imaging (MRI) program at The Michener Institute?
The Magnetic Resonance Imaging (MRI) program is a part-time program designed with the working medical radiation sciences professional in mind. All didactic courses are offered online, which allows students to continue to work in their current roles, wherever it is located. Graduates are eligible to write the Magnetic Resonance Imaging National Certification Examination conducted by the Canadian Association of Medical Radiation Technologists (CAMRT). This certification is required to be eligible to work as a Magnetic Resonance Imaging technologist in Canada.
Magnetic Resonance Imaging (MRI) is a procedure that creates images of the body using radio frequency waves in conjunction with extremely powerful magnets. This non-invasive technique relies on the magnetic properties of atoms, rather than radiation that is used in many other imaging procedures.
MRI technologists utilize their communication, patient care, and collaborative skills to interact with patients and other members of the health care team. Effective MRI technologists are patient advocates who display reflective, responsible practice and have strong problem solving and technical skills. They are responsible to ascertain each individual's safety in the MR environment before entering the magnetic field. MRI technologists utilize their knowledge of anatomy, physiology, pathology, and the principles of MRI safety to efficiently operate MRI scanners.
MRI technologists enjoy the challenges of working with new and emerging technologies.
MRI is an expanding and growing imaging modality
MRI technologists play a vital role within the diagnostic imaging team
New MRI units are currently being installed in hospitals and clinics. Competent MRI Technologists are in demand
Becoming an MRI technologist is a great opportunity to expand your skills within the Imaging field
The MRI Graduate Certificate program is a 19-month competency based program.  You can continue working while taking the online didactic courses. The clinical component takes place in the final semester and is full-time at Michener / at a designated program-affiliated clinical site. This requires full-time attendance at the clinical site.
Please note that your clinical placement must be completed within 36 months of starting the program.
The Distance program is web-based with weekly on-line sessions with instructors and fellow classmates. Attendance at Michener is required during the first week of the clinical semester. Please note MRMR242 will have a compulsory lab component in the GTA. Students living more than 100km from Michener may complete their labs at a different site (but will be responsible for coordinating their own site).
Exam dates are to be determined by the beginning of each semester. Students living within 100 km of Michener must attend Michener to sit the exams. Students living at a distance greater than 100 km from Michener may arrange for their exams to be proctored. Please refer to the Distance Education and Part Time Examination Invigilation Policy for more details.
Start Date
Applications will be considered for the affiliated start date only (see application deadline). Start date is: September 2019.
Click here for admission requirements by program
In preparation for entry to the clinical practicum portion of the program, all MRI students need to demonstrate their eligibility to enter the MR environment as part of the mandatory Health and Safety Requirements. All applicants to the program are strongly encouraged to review the non-patient safety screening form to self identify whether they are eligible.
APPLICATION DEADLINE: June 15, 2019 for the September 2019 start date
The MRI Graduate Certificate program is a comprehensive, learner-centered program that provides the knowledge and skills necessary to competently perform MRI procedures and operate MRI scanners.
Enhance your patient care skills and your working knowledge of cross-sectional anatomy
Practice MRI safety guidelines and screening procedures
Perform MRI procedures
Acquire the knowledge and skills to recognize abnormalities on the resultant image
For more detailed course information, visit the MRI Curriculum Page.
MRI Course Fees
Note: Fees are subject to change. Students will be responsible for any additional charges that may not have been included in the original student admission, such as the student activity fee, and if applicable, invigilation fees.  Please note, tuition/course fees are subject to change and students are responsible for any increase as noted in the invoice.
Length:            15 weeks*
Start:                January
End:                  April
You will be assigned to clinical placement site(s) through Michener's Office for Clinical Education. This process begins with an information session in the first year of your program.
As clinical education is a major component of all Michener programs, our affiliated clinical sites are integral to your education. They include teaching and community hospitals as well as private clinics primarily in Ontario. Working closely under the supervision of MRI Technologists, you will have the opportunity to integrate knowledge and skills into practice during the clinical phase of your program. Clinical placements give you hands-on experience in work environments and the opportunity to network with potential employers.
You may be placed in more than one clinical site during your clinical placement period, based on the required clinical competencies for your program and the range of services at the clinical sites.
Clinical partner sites are subject to change, therefore, specific geographic regions may not be available at the time of your placement; other regions may be added. Please note that when you accept a seat in the program, you also accept to go to any of the program's affiliated clinical sites available at the time of your placement.
*First week mandatory attendance at The Michener Institute is required for clinical readiness (regardless of residential address, all students commencing clinical MUST attend). ONLY students that have completed all Health Requirements documentation will be able to proceed to their clinical placement.