Magnetic Resonance Imaging Program (For Imaging Professionals)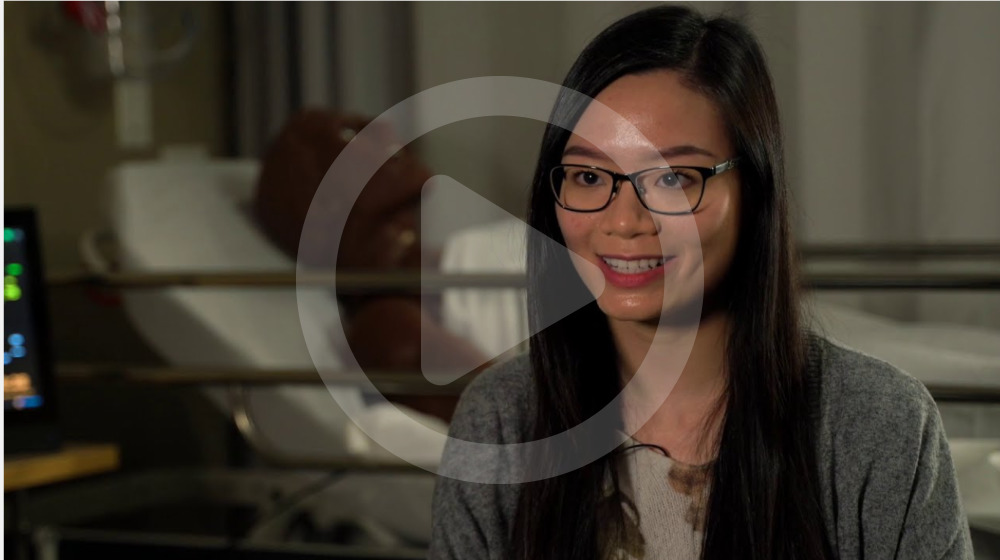 Program at a glance:
Credential Earned: Graduate Certificate
---
Program Length: 4 semesters (3 part-time didactic semesters plus 1 full-time clinical semester)
---
Program Delivery: Online
---
Start Date: September 2024
---
Application Deadline: May 31, 2024
---
About the Program
This program is suspending admission for September 2024. We expect to admit an intake for September 2025, and we do not anticipate changes to the admission requirements for September 2025. Please email admissions@michener.ca for more information.
Take your medical imaging career further with specialized training in MRI
The Magnetic Resonance Imaging (MRI) program is a part-time program designed with the working medical radiation sciences professional in mind. This program consists of both didactic and clinical components spread across four semesters. The didactic courses are offered online (three part-time semesters). The final semester is the clinical semester; it begins with a mandatory four-day Clinical Readiness component (a combination of online and onsite sessions) to ensure that students are fully prepared to start their full-time clinical practicum. Graduates are eligible to write the national certification examination administrated by the Canadian Association of Medical Radiation Technologists (CAMRT). Certification qualifies graduates to be eligible to work across Canada and allows them to apply for registration as an MRI Technologist with the College of Medical Radiation and Imaging Technologists of Ontario (CMRITO) .
The MRI Program is accredited by Accreditation Canada . Accreditation is a quality improvement process that ensures educational programs meet national standards and that students acquire the knowledge, skills, and competencies for safe and effective care at entry to practice.
"The MRI program instructors use first- hand clinical images and simulated software to prepare students for clinical placement."
Take a Magnetic Resonance Imaging Virtual Tour
Apply now on ontariocolleges.ca (Fall 2023 Intake)
Admission Requirements
MRI is an imaging modality that creates images of the body using radiofrequency waves in conjunction with extremely powerful magnets. This non-invasive technique relies on the magnetic properties of atoms (rather than radiation) and provides valuable diagnostic information to aid in patient management. MRI is widely used.
MRI technologists use their communication, patient-care and collaborative skills to interact with patients and other members of the health care team. They are responsible for the safety of patients and other staff members in the Magnetic Resonance environment. Using their knowledge of anatomy, physiology and pathology along with the principles of MRI physics and methodology, MRI technologists operate MRI scanners to create images of a patient's body tissues, which physicians then use as an aid to diagnose patients. The skill of the MRI technologist is extremely important in obtaining high-quality diagnostic images. MRI technologists work with radiologists and other health care providers.
MRI Technologists find rewarding careers in clinical environments such as hospitals, diagnostic imaging centres and independent health facilities. Other career opportunities can be found in the areas of education, sales, applications and research.
The MRI Graduate Certificate program is a comprehensive, learner-centered program that provides the knowledge and skills necessary to care for patients in the MR environment and competently perform MRI procedures.
When you enroll in the MRI program, you will study MRI safety guidelines and requirements; patient care and safety skills; how to prepare and position patients for their MRI examinations; how to apply knowledge of MRI physics and methodology, cross sectional anatomy and pathology to produce high-quality diagnostic MRI images; how to use sophisticated MRI scanners to perform complex cross-sectional imaging procedures.
For more detailed course information, visit the MRI Curriculum page.
Length: 15 weeks*
Start/End: September to December
Alternate Start/End: January to April
You will be assigned to a clinical placement site(s) through Michener's Office for Clinical Education. This process begins with an information session in the first year of your program. The clinical practicum is fulltime, and comprised of a combination of evening, night, weekend and day shifts.  Students should be prepared to work a significant number of evening and night rotations, particularly in the first half of the course.  Weekend rotations may also be scheduled for your best learning opportunities.
As clinical education is a major component of all Michener programs, our affiliated clinical sites are integral to your education. They include teaching and community hospitals as well as private clinics primarily in Ontario. Working closely under the supervision of MRI Technologists, you will have the opportunity to integrate knowledge and skills into practice during the clinical phase of your program. Clinical placements give you hands-on experience in work environments and the opportunity to network with potential employers.
You may be placed in more than one clinical site during your clinical placement period, based on the required clinical competencies for your program and the range of services at the clinical sites.
Clinical partner sites are subject to change; therefore, specific geographic regions may not be available at the time of your placement and other regions may be added. Please note that when you accept a seat in the program, you also accept to go to any of the program's affiliated clinical sites available at the time of your placement.
*First week mandatory attendance at The Michener Institute is required for clinical readiness (regardless of residential address, all students commencing clinical MUST attend). ONLY students that have completed all Health Requirements documentation will be able to proceed to their clinical placement.
How many intakes does the MRI Program have?
We currently accept one intake annually, which takes place in September.
I took MRI courses as selectives as part of my first discipline program – will this count towards any coursework in the MRI Program?
Graduates of the joint University of Toronto / Medical Radiation Sciences program who have successfully completed one or more MRI courses as electives will be given the opportunity to apply for transfer credit once accepted into the MRI Program.
What do I need to submit with my application?
Canadian Educated Applicants:
Official academic transcript
Certification/licensure in one of the following four disciplines: Nuclear Medicine, Radiation Therapy, Radiological Technology or Sonography/Ultrasound
Internationally Educated Applicants:
Official credential evaluation of studies

WES Course-by-Course OR
ICAS Comprehensive

Internationally educated and trained applicants must meet the corresponding Canadian certification body requirements and should consult with:
Will I be eligible for OSAP?
Unfortunately, no. Although MRI students are full-time during clinical, they are not eligible for OSAP as the program is considered part-time.
I am in another program, but taking MRI courses, would I be able to enter my MRI courses in my CMRITO record for CE and PD?
You will need to contact CMRITO directly to determine if your current course work would be considered eligible.
Does the program have a summer semester?
Yes, there is a 12-week summer semester that is delivered fully online (May – July inclusive)
Is the program designed to go at your own pace?
No, there is a set order to the courses and timelines, and each course has a weekly schedule, with fixed start and end dates, structured deadlines for assessments, etc. that students will need to follow.  As part of the didactic courses, students are expected to completely weekly activities online, both on their own and together with their faculty and peers.
What kind of structured deadlines do you have for assignments and exams?
Every course follows a structured schedule with set deadlines for submission of assignments and examination date.  All assignments and exam dates are listed in the course outline that you will be able to access once you are enrolled in each specific course.
As an international student, am I eligible to take the program as a distance learner?
All the didactic courses are delivered online, which you can take wherever you may be. For the final clinical semester, you will be required to be present in Toronto at The Michener Institute during the first week, followed by 14 weeks of clinical at one or more of our affiliated clinical sites.
I am currently working at a non-Canadian clinic. Would I be able to complete the clinical portion at the hospital I work at?
Currently we only place students at our affiliated Canadian sites in Canada.
Will I require a study permit or work visa for my clinical practicum?
The clinical placement is under 6 months, you will not be required to apply for a study permit, only a visitor visa is required. Please refer to the CIC Government website for more information on obtaining a visa to study in Canada.
CLINICAL PRACTICUM – FAQS
When will I find out where I will be doing my clinical?
The clinical placement selection process follows Michener's Clinical Placement Policy and Procedure. It is typically run in the summer semester prior to the fall clinical practicum course. If you have any questions, please contact the Office for Clinical Education clinicaleducation@michener.ca.
Can I choose which site I will be going to?
You will have the opportunity to rank your regional preferences via the clinical placement process. However, please note that when you accept a seat in the program, you also accept to go to any of the program's affiliated clinical sites available at the time of your placement. For more details on the clinical placement policy and process, please review Michener's Clinical Placement Policy and Procedure.
Can I do my clinical at my current place of employment?
The ability to complete one's placement at their current place of employment is dependent on several factors, including but not limited to:
The availability of a clinical placement;
The employer.
Michener is affiliated with many diverse clinical partners for MRI placements, ​who support placement opportunities offered for the clinical selection process as well as for Employer Initiated Placements (E.I.P.). If you have any questions please contact the Office for Clinical Education clinicaleducation@michener.ca
Can I do my clinical on a part-time basis?
No, the clinical practicum can only be completed on a Full-Time basis (Full-Time means 5 days x 8 hour shifts per week). The practicum is only one semester long – a total of fifteen consecutive weeks, including the week of 'clinical readiness' at Michener/online.
What shifts will I be scheduled for?
The clinical practicum is comprised of a combination of evening, night, weekend and day shifts. Students should be prepared to work a significant number of evening and night rotations, particularly in the first half of the course. Weekend rotations may also be scheduled for your best learning opportunities
I want to keep working during my clinical time. What shifts can I work?
It is the responsibility of the individual student to make their own choices regarding the balance between their studies and other aspects of their lives. As the clinical practicum is full-time, all students will need to make the necessary arrangements in advance to enable their ability to commit to their clinical placement fully and to focus on their preparations to challenge the Canadian Association of Medical Radiation Technologists (CAMRT) national certification examination.
Please note: Learning and participating in mentored practical training for eight hours a day can be significantly more tiring than working in the job in which you are already familiar; as such, students are advised to minimize additional work commitments during this period.
Textbooks
Scholarship & Bursaries
Tuition