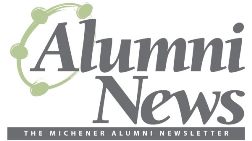 Alumni News is an online newsletter available four times a year. Each issue includes continuing education opportunities, alumni profiles, Alumni Board updates and general news from the Michener community. It's another way for us to stay connected with our graduates. Email alumni@michener.ca to receive Michener's Alumni News.
Michener Alumni News - Summer 2023
Have any story ideas?
We welcome you to submit any story ideas or articles to alumni@michener.ca.
Back Issues of Michener Alumni News
While Michener strives to meet the guidelines and standards for accessibility and usability, it is not always possible to do so in all areas of the website. If you would like an accessible version of any of the documents archived on this page, please contact
communications@michener.ca
.