Michener Magazine – Spring 2015
Welcome to the new edition of Michener Magazine
We've updated Michener Magazine to better serve you, Michener's alumni. Keep an eye on your inbox for more frequent issues and more ways to get involved with the Michener community. To get involved or to get in touch, email us at alumni@michener.ca.
---
Jose Jarrin
(Sick Kids Hospital Clinical Coordinator, Michener Ultrasound Alumni),
Dawna Thomas
(Ultrasound Supervisor and Clinical Coordinator at Baycrest, Michener Ultrasound Alumni) and
Chris Hau
(Clinical Coordinator at University Health Network, Michener Respiratory Therapy Alumni) were all recognized for their contributions to the Michener Community at the Annual Values in Action Awards Lunch held in February 2015.
Read more about stronger together values in action …
---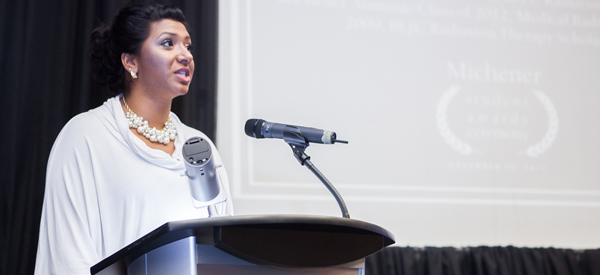 Thanks to the generosity of Michener's donors, Abby Sirisegaram-Cole is back on her feet. A 2011 graduate from the Radiation Therapy program, Abby returned to Michener in November to be Master of Ceremonies at the 2014 Student Awards Ceremony. She credits Michener's student awards for getting her to where she is today.
Read more about Abby Sirisegaram-Cole…
---
 Say hello to new members of the Michener Alumni Board of Directors: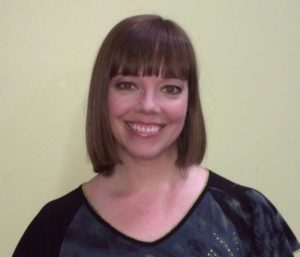 Laura Smy is a medical laboratory technologist and a 1997 Michener graduate. Throughout her career she has worked for Canadian Blood Services and SickKids Hospital. Currently, Laura is in her fourth year of a PhD in Clinical Pharmacology and Toxicology at University of Toronto and SickKids Hospital. Laura's volunteer work doing special events with the New College Alumni Association at U of T inspired her to pursue a position on Michener's Alumni Board of Directors.
Sheilina Dhalla was born and raised in Tanzania and moved to Canada in 1996. Since graduating from Michener's Nuclear Medicine program in 2000, she has worked at the Scarborough Hospital Birchmount Campus. She has been active in the community as a union trustee at work and as an administrator and coordinator at the Young Muslims Athletic Association, where her kids played hockey and soccer. As a nuclear medicine technologist, Sheilina has been engaged in continuing education, including CAMRT courses and CT certification. Sheilina remembers Michener welcoming her when she arrived in Canada and has always wanted to give back.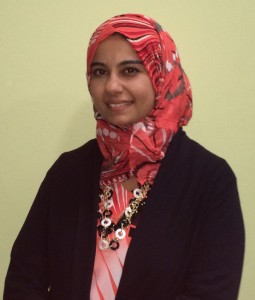 ---
---
More news from Michener…