Ex-vivo Lung Perfusion (EVLP110)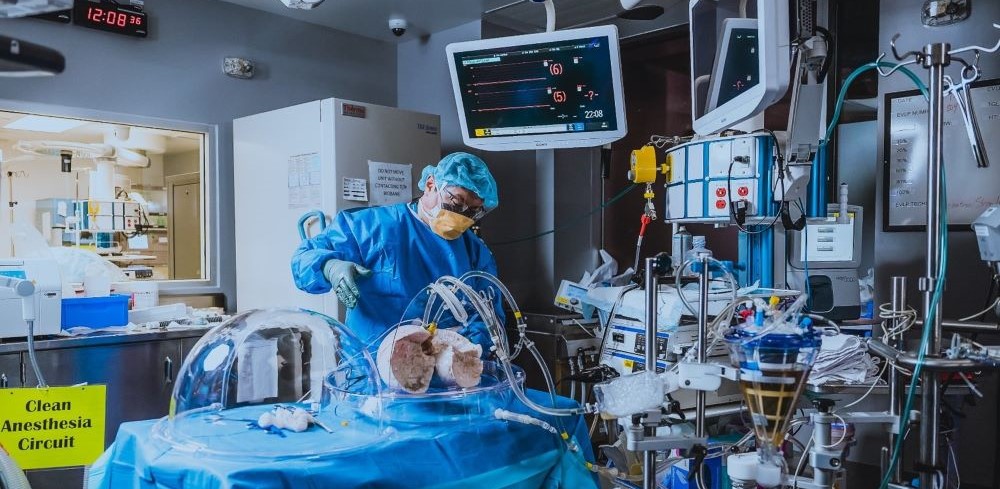 Ex-vivo Lung Perfusion (EVLP110):
at a glance
Credential(s) Earned: Micro-credential
---
Program Length: 8 Weeks Full-Time (40 hours per week)
---
Start Date: October 3, 2022
---
Tuition: Provided upon request, contact ce@michener.ca
---
Program Code: EVLP110
---
Description
Ex-vivo lung perfusion (EVLP) is a novel technique invented at the University Health Network by a team led by Dr. Shaf Kashavjee. This approach to lung perfusion has revolutionized organ transplantation. As the procedure becomes more mainstream in complex surgical facilities, the need to build capacity in the health care system to provide care in this way is increasingly important. Led by an expert faculty of international recognition, the Michener Institute of Education at UHN is excited to partner with UHN and members of the University of Toronto Department of Surgery to host this first-of-its kind course.
This EVLP Course is comprised of classroom-based and online lectures, research and simulation labs, rounds, case reviews, observation in operating rooms, and hands-on surgical skills sessions. Each week builds upon the other as the faculty present case scenarios that increase in complexity. Participants will engage in a comprehensive learning experience that integrates gaining highly specialized knowledge with practical application in high fidelity simulation environments. Trainees will complete the course having gained in-depth knowledge of the scientific foundations of EVLP, lung transplant operational procedures (donor selection, management of lung recipients), and treatment protocol (including assessment of lungs, EVLP circuits, and troubleshooting).
In the hands-on skills lab, participants will have the opportunity to practice the set up and running of an EVLP circuit and troubleshooting common and complex issues that arise. This will take place in small groups under the guidance and direction of faculty from the University of Toronto Department of Surgery that specialize in thoracic transplantation.  Participants will additionally have the opportunity to gain hands-on experience in research labs .  Each station will have an assigned instructor to provide dedicated skills development feedback along with insights into a variety of tips to ensure successful outcomes. The hands-on skills lab sessions will be hosted at Michener's new Temerty Centre for Advanced Surgical Education and Simulation.
At the end of the program, participants will be able to:
make evidence-based recommendations in the selection of donor lungs and understand potential surgical complications impacting a successful donor lung retrieval
independently assess a donor lung and set it up on an EVLP circuit ensuring preservation techniques and treatments are employed while troubleshooting issues during perfusion
understand the clinical reasoning and assessment criteria behind the selection of a recipient
apply clinical and surgical knowledge and hands-on skills in the planning, set up and running of an EVLP circuit, along with the ability to address both expected and unexpected challenges
Each of the 8 weeks has 40 hours of programming that generally runs Monday to Friday from 8:00am – 5:00pm.  It is important to note that participants will be on call at varying times to maximize opportunities to observe live cases.  Flexibility will be required to adapt to scheduling changes.  Participants may be required to attend the hospital at night and/or on a weekend.  This is integral to the learning experience.  The weekly research lab also runs for 35 hours and participants will be given two 4 hour blocks to rotate through during this time.
Every week the participants will be attending live or online lectures, a case review session, a research lab, lab meetings, observation in the operating room at Toronto General Hospital, hands-on skills lab, recipient selection meetings, EVLP and donor meetings, and clinical EVLP meetings.
Week
Objectives
Week 1:  Management of the Donors

Review donor selection criteria (standard vs extended criteria), types of donors (brain dead vs different types of donors after cardiac dead)
Understand the donor management during the pre-surgical phase
Review the steps for a successful donor surgery and the potential complications during the surgical phase
Review the lung preservation technique used by The Toronto Lung Transplant Program

Week 2:  Management of the Recipient

Review recipient eligibly criteria and decision making regarding sizing, volume reduction and lobar transplant
Review intraoperative management of the allograft, the use of bypass vs extra corporeal membrane oxygenator
Review the steps for a successful lung transplant surgery and the potential complications during the surgical phase
Review the early complications (Ischemia reperfusion injury, primary graft dysfunction) and late complications (airway complications) and the Toronto experience.

Week 3:  Clinical Foundations of EVLP

Understand the rationale for EVLP
Review the different EVLP protocols
Review the steps of EVLP Technique including cannulation, initiation and ramp up of EVLP
Review the current evaluation method used by the Toronto team
Review the Toronto EVLP experience (over 700 EVLP) including the potential pitfalls during EVLP and how to solve them during setup and while running the EVLP

Week 4:  Assessment of Lungs on EVLP

Assess a lung on EVLP and understand the suitability of the lung for transplant
Perform and understand bronchoscopy, gas analysis, venous sample collection, data collection and reporting them to the transplant team.

Week 5:  History, Present and Future of EVLP

Review the history, present and future of EVLP treatments
Review the potential for extended EVLP
Review the use of lobar EVLP for treatments and potentially transplants
Review the use of biomarkers during ex vivo lung perfusion (Assessment of the Inclusion of Biomarker Scoring in EVLP Decision-Making)

Week 6:  Case Reviews

Appreciate the practical and complex applications of EVLP as assessment and treatment platform

Week 7:  Formative Assessment Week

Participate in mock assessment/exam with faculty supervision the learner knowledge of all EVLP course content
Demonstrate key EVLP skills, techniques, and clinical application
Identify and respond to challenges while running of an EVLP circuit

Week 8:  Summative Assessment week 

Participate in final assessment, performing set up, management, monitoring and troubleshooting of an EVLP circuit independently
Health care professionals with previous education and/or work experience in any of the following: (as evidenced by submission of CV/resume):
Medicine
Nursing
Perfusion
Respiratory Therapy
October 3, 2022 – November 25, 2022
This is an 8-week, full-time course.
Programming is delivered Monday to Friday from 8:00am – 5:00pm EST.
There will be flexibility in the program schedule to accommodate varying hours for on-call cases.
This course at Michener is led by internationally recognized faculty and experts in the practice and administration of EVLP.
Program Chairs
Andrea Mariscal, MD, PhD
Hemant Gokhale, MD
Course Faculty
Shaf Keshavjee, MD, MSc, FRCSC, FACS
Thomas Waddell, MSc, PhD, MD, FRCSC
Marcelo Cypel, MD, MSc, FRCSC, FACS
Laura Donahoe, MD, MSc, FRCSC
Please review the Course Program for full faculty bios.
For those applying to the EVLP Course at Michener, please complete the following steps:
Complete a profile on Michener Self-Service Portal
Upload a resume and cover letter outlining your relevant experience.
Documentation must be completed by INSERT DATE
Participants in the EVLP Course at Michener must meet one of the following professional criteria.
You must be a health care professional with previous education and/or work experience in any of the following areas

Medicine
Nursing
Perfusion
Respiratory Therapy; AND

A minimum of two years of current patient care experience* in your profession; AND
Computer literacy

Students must have access to a computer that meets the

 

minimum system requirements, access to the Internet, and an e-mail account
Access to and basic proficiency with a PDF reader, Microsoft Word, and Microsoft PowerPoint are also required as they are used to access course material and submit evaluation items
COVID Vaccine Requirement:
Effective September 7th all learners, faculty and staff must provide proof of at least one-dose of approved COVID-19 vaccine to participate in any in-person learning or on-site activities. Proof of full vaccination will be required as of October 8th, 2021.
Instructions to upload proof of COVID vaccination to Self Service