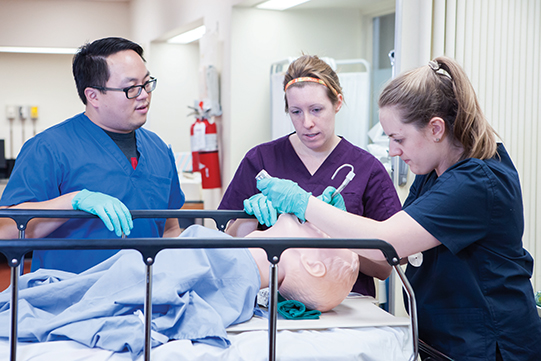 Welcome University of Toronto Residents to our ACLS course registration and information page.
Please note:  We will contact U of T to determine your eligibility for tuition coverage once you have submitted your form.
The Michener Institute of Education at UHN offers Advanced Life Support (ALS) training and recertification courses for health care professionals responding to cardiopulmonary emergencies and working in critical care environments. Offering our students the highest standard of learning, we prepare professionals to safely and successfully respond to emergency situations using simulation based learning that is team-based and interprofessional.
Prerequisites:
HSF BLS Provider Card issued within the previous 12 months (mandatory). You will be required to submit your HSF BLS card prior to  attending the ACLS course. If you wish to register for a BLS Course please see link: Basic Life Support Courses at The Michener Institute of Education at UHN
Able to identify ECG rhythms- For those who wish to test/review their ECG interpretation skills please go to ECG STAT Test.
Knowledge of primary pharmacology specific to cardiopulmonary emergencies
Registration with Heart and Stroke for your Heart and Stroke Id Number (If you do not have a HSF Number/Account already).
Completion of ACLS Pre-Course Test (Must be presented at the course).
Textbook: Not included in course fee. ACLS Provider Manual (2020)  and HSFC Handbook of Cardiovascular Care for Healthcare Providers (2020) available from Training Materials for HSF courses.
Please note: Heart and Stroke criteria for taking ACLS state that you must have successfully completed a HSF BLS  Provider course within the previous 12 months in accordance with current guidelines, be actively using BLS skills on a regular basis and demonstrate competence in performing CPR.
University of Toronto Residents ACLS Application