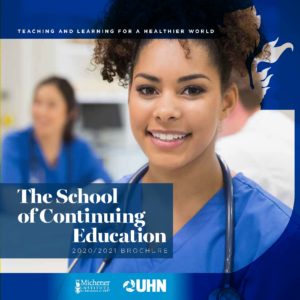 Certificate Programs at the School of Continuing Education span a breadth of content areas that will give you an edge in furthering your career. Many programs are available online and facilitated by instructors with years of experience practicing in their respective fields, bringing you education that is relevant and timely. They are designed to meet the needs of your busy schedule as an adult learner and allow you to build relationships with other professionals across Ontario, Canada and the world. Many of the courses (at the St. Patrick Campus) can be taken individually or combined to meet the requirements for completion of a certificate program.
Please note: Certificate Programs are not eligible for OSAP funding.
Certificate Programs at the St. Patrick Campus
These highly sought after certificates are available online using best practices in blended and online learning.
Artificial Intelligence in Health Care
Cannabis Educator
Clinical Educator
Clinical Management
Clinical Research
Critical Care Nursing
Diabetes Educator
Foundations of Psychedelic Psychotherapy
Foundations of Nephrology Nursing
Imaging Informatics
Leadership in Healthcare
Mental Health Nursing
Plain Language
Quality Management
Certificate Programs at the Hospital Campuses
These exciting offerings require that you reach out to the program at the hospital partner directly to inquire about registration, fees, and curriculum details.
Collaborative Change LeadershipTM
ehpicTM: Educating Health Professionals in Interprofessional Care