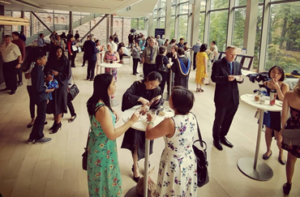 Do you have any questions about Michener programs, services or submitting an application? Join us for a virtual information session!
These one-hour sessions are a great way to learn more about Michener programs, services, and admission requirements and processes.
Upcoming Information Sessions
Sessions are online only. They do not take place onsite at The Michener Institute.
| Topic | Description | Date | Time (EST) |
| --- | --- | --- | --- |
| Financial Aid Webinar | This webinar will provide important information on OSAP, scholarships, and bursaries to newly admitted Michener students. | Thursday, June 15, 2023 | 2:00-3:00 pm |
Need help with your application?
Applying can be tough, but we have an amazing admissions team who can help you get through it! Stop by one of our AskMI drop-in sessions to have your admissions questions answered!
Sessions will be taking place every Wednesday from November 2nd, 2022 to February 9th, 2023 from 1-2 pm EST. Sessions will then resume in April.
Previous Information Sessions
Missed the live session? Check out the recordings of our past information sessions below:
| Date | Time (EST) | Recordings / Presentations |
| --- | --- | --- |
| Thursday, May 26th, 2023 | 3:00-4:00 pm | New Student Health Requirements  |
| Tuesday, May 16th, 2023 | 4:00- 5:00 pm | Fundamentals of Healthcare: Admission Requirements |
| Thursday, April 6th, 2023 | 4:00-5:00 pm | Fundamentals of Healthcare: Paving Your Way to Success |
| Monday, March 27th, 2023 | 6:00-7:00 pm | Medical Laboratory Science: Information Session for applicants from Nova Scotia |
| Thursday, March 16th, 2023 | 6:00-7:00 pm | Medical Laboratory Science: Information Session for applicants from Nova Scotia |
| Tuesday, Jan. 31, 2023 | 4:00-5:00 pm | Introduction to Fundamentals of Healthcare Program |
| Tuesday, Dec. 13, 2022 | 4:00-5:00 pm | How to Apply from Start to Finish |